The content is accurate at the time of publication and is subject to change.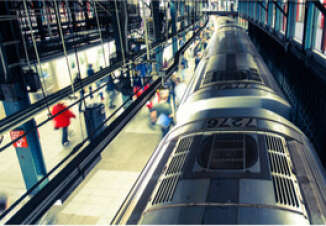 Commuting can get expensive but this summer in NYC summer Fridays means more than days off and a casual workday, for Mastercard cardholders it means commuting, as long as they use one of the new tap and pay terminals going live in the New York City subway system.
What subway lines are taking part in Fareback Fridays? That is a good question. Right now cardholders can ride the 4, 5 and 6 lines starting at 42nd Street, Grand Central Station and ending at the Atlantic Avenue-Barclay's Center Station. Cardholders will pay for their ride but they will get a refund on their card. Yes, they need to use their Mastercard to tap on the newly installed tap and go terminals installed along this line.
They can take advantage of this offer every Friday in both June and July. "Mastercard is thrilled to partner with the MTA to completely transform the experience for commuters in New York City," said Linda Kirkpatrick, executive vice president, U.S. Merchants, and Acceptance.
"Mastercard cardholders who tap their cards or phones at subway turnstiles will benefit from shorter wait times and a slick experience. Mastercard will be the first to offer cardholders an incentive to tap and pay for their subway ride," she added.
Getting started
First things first people need to determine if their credit or debit card is outfitted for tap and pay. To do this they simply look for the Wi-Fi style logo printed on either the front or back of their card. If so they can use their card at the new terminals.
What if their card is not outfitted for tap and pay? They are not out of luck all they need to do is add their Mastercard to their phones mobile wallet. From that point on they can use their phone to tap and pay.
There is more
Why did Mastercard launch the Fareback Friday program? They wanted to get people in the groove when it comes to using their Mastercard and tap and pay technology to get on the subway.
And to sweeten the pot cardholder who use their cards to get on the subway using the new tech are now eligible to get Priceless Surprises, which includes everything from unique entertainment and sports experiences to foodie events in New York City.