The content is accurate at the time of publication and is subject to change.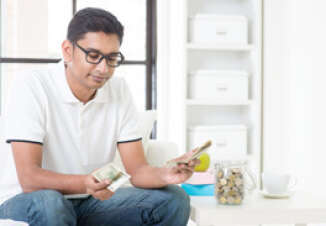 It's the time of year when many people take stock of their finances, especially with the new year right around the corner. USA.gov has come up with some tips to help people get a leg up next year, whether that means thwarting scammers, managing debt or saving for the future.
With so many cases of identity theft in the news and retailers being hacked, they start by suggesting people get in the habit of checking their credit report annually and the start of the year is a good time to schedule that. Credit reports play a role in everything from getting a car or home loan to sealing the deal on that new job you're applying for.
Checking your credit report can also be a great way to catch hackers and cyber thieves early, but they also suggest making sure to keep an eye out for scams whether it's on the telephone, in person or via email. If something sounds like it's too good to be legitimate, then it's probably not.
There a few warning signs to keep an eye out for, including someone pressuring you to make a decision right away and indicating that they have insider information.
Take your time
Another place they suggest taking your time is when you are deciding which financial products and services to choose including credit cards. You may feel pressured into making a quick decision, but they suggest holding the line and taking the time to figure out what it is you really need.
They have a few steps to help you do just that:
• Before you apply for a new credit card, think about what you will be using it for, whether that is everyday spending or travel and entertainment. Look for the best card to meet those goals.
• When looking for someone to manage your money, shop around and check their background.
Mortgages can be a big financial decision, and here too it's important to take the time to learn the ins and outs before deciding on a mortgage. But it's also important to know your rights, so you can protect yourself during and after you locked into your rate and lender.
Getting a handle on debt and saving for the future
What if you can't pay your credit card bill? While its stressful, here too knowledge is everything, and getting the information you need is key so you know what to do in this situation and what your rights are if you can't make your payments. Part of that process, according to USA.gov, is getting some help from a credit counselor who can give you the information you need, and help you get back on your feet, instead of deeper into the red.
Last but not least, saving is on their tip sheet for helping make your financial future brighter. This may be especially relevant if your financial picture has changed this year, whether that means you're making less money or just want to save more.