The content is accurate at the time of publication and is subject to change.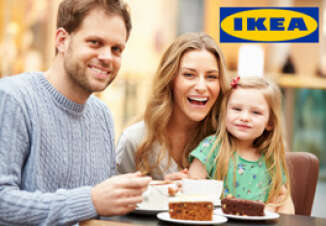 The IKEA's 'eat for free' deal appears once in a while and visitors have a chance to grab it this weekend.
Shoppers will need to be members of the IKEA Family loyalty program. If you are not an IKEA Family member, you can sign up now to the loyalty program for free (online or in store) and take advantage of the offer. However, membership is not the only catch of the free meal offer.
There are some rules and requirements members should follow in order to get the deduction. Here's how it works:
1. Purchase a meal in IKEA Restaurant.
2. Receive a coupon with a receipt.
3. Present IKEA Family Card to store cashier.
4. Give your coupon and receipt to the Check-outs cashier and receive the total amount of your meal deducted from your purchase of over $100.
Also, there are some other nuances like restaurant purchase must be consumed on the IKEA premises, there is a limit of one restaurant receipt per store discount, the purchase must be on home furnishings and be made the same day as the restaurant purchase, and the offer is not valid on the IKEA Gift Card purchases. But the good is that there is no limit on the amount that can be spent in the IKEA Restaurant. The restaurant is open for breakfast, lunch and dinner and any meal qualifies for the deduction.
This time the free meal offer is valid on Saturday, March 25 through Sunday, March 26, 2017 only at participating IKEA stores. The offer is not valid at IKEA Stoughton, IKEA Carson, IKEA Memphis and IKEA New Haven.