The content is accurate at the time of publication and is subject to change.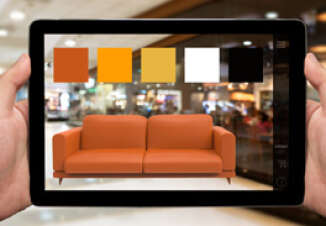 Consumers forecasting what shopping will look like in 2030 expect to see everything from interactive mirrors, digital assistants and in-home chat bots, to data-enabled customized shopping, and instant returns and purchases, according to a new study by Synchrony Financial, looking at what consumers think shopping will look like in the future.
In the first ever Future of Retail: Insight and Influences Shaping Retail Innovation report, they found that do-it-yourself shopping was trending with consumers, expecting to see self-service taking priority, along with 24/7 access to stores, interactive mirrors and drive-throughs featuring robots. Interactive mirrors? Yes, just about half (47%) put interactive touchscreen mirrors in dressing rooms on their list of top three most exciting innovations in the coming years.
"Findings show shoppers seek self- and on-demand service, increased customization, and seamless home and in-store integration," said Whit Goodrich, CMO Retail Card, Synchrony Financial. "By having a pulse on the evolving desires of the American consumer, we're able to pioneer new solutions to help retailers deliver a better shopping experience with tailored loyalty benefits and rewards."
Personalized everything
Consumers believe that retailers will be able to access their personal information in order to give them personalized offers and products, whether that is by using wearable technology or biometrics, to get information on what they need and want. This might also include in-home chat bot devices along with digital assistants who can give them unbiased information about the items they are looking to buy.
Technology may just make consumers more demanding, expecting that they will be able to buy what they want when they want it – and then instantly return it if need be. With 77% of people seeing a future where there are more streamlined ways to return online purchases. This may include making returns via return buttons located in retailer apps, which help re-package and pick-up items
What about purchases? Shopping their way may mean the launch of everything from stores on wheels, subscription services, trunk stores and pop-up shops.
Blurring the lines between home and store
The evolution of high definition camera technology is seen by consumers as a way for their future selves to be able to interact through virtual or augmented reality so they can see how merchandise will look in their home whether it's that new sofa they have their eye on or new paint for the bedroom.
What about home shopping? Here too, consumers see changes coming, ones that let them not only access secure in-home retailer services but shop in 3D, take advantage of an instant try-on feature and make purchases using smart labels or QR codes.
The Future of Retail survey was carried out between January and February. They spoke with 1,016 consumers via both online discussions and half-day workshops carried out in two cities in the U.S.