The content is accurate at the time of publication and is subject to change.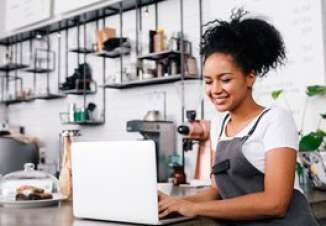 American Express is rolling out a new credit card for small businesses, offering quadruple reward points on the two categories in which they spend the most during the month. There are six categories they can earn these enhanced rewards in, ranging from air travel and gas to media spends technology and eating out. All other purchases earn them one point per dollar spent.
They also get a 25% airline bonus when making purchases using Membership Rewards Pay with Points. In order to get the bonus, they must also book their tickets directly through American Express Travel. They can earn up to 250,000 points back each year using this perk.
Getting those Quadruple Points
Cardholders can earn the quadruple points on the first $150,000 they spend during the year. There are six categories that earn them the enhanced rewards, including:
• Airfare (bought from the airline directly)
• U.S. Gas stations
• U.S. Technology providers (computer hardware, software and cloud solutions providers)
• U.S. Shipping
• U.S. restaurants
• U.S. Advertising via certain media options (online, TV, radio)
Special business features
Cardholders also get access to a variety of business features and extras, designed to help them do everything from managing cash flow to helping them pay their vendors. They also get access to special offers from providers, like G Suite by Google Cloud and ZipRecruiter.
They also can take advantage of a built-in "Pay over Time with interest" feature, giving them an APR that falls in the P+10.99% and P+18.99% range, based on their credit and other factors.
Businesses have different needs and this card was created with this in mind. "We understand that business owners want a simple way to earn rewards that are customized to the way they do business, and solutions that help them stay productive," said Courtney Kelso, Head of U.S. Commercial Card products at American Express.
"Based on those insights, we designed the new Business Gold. It takes the guesswork out of earning rewards, and we're proud to work with G Suite and ZipRecruiter to offer Card Members access to their leading collaboration tools and employment marketplace. This 360 business solution is designed to truly help businesses focus their time and energy on what matters most – running and growing their business," she added.