The content is accurate at the time of publication and is subject to change.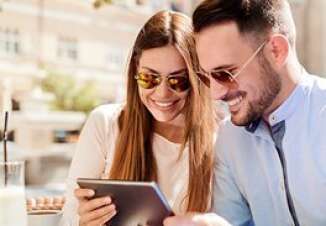 There are some things that people just don't talk about before getting married and credit scores may be one of them according to a new study by Credit One Bank. While credit scores don't automatically change when you get married, getting hitched can have a profound effect on your score as time goes on. In turn, that can get in the way of your ability to get the credit card you want.
Due to their findings, Credit One Bank suggests sitting down to have "the talk" before getting to the altar, which can save lots of wear and tear on your marriage later on-and possibly prevent breakups and divorce.
This is especially true since weddings can put a very real strain on a couple's finances and increase credit card debt. When debt goes up, credit scores can go down. And that rewards credit card you have been eyeing may be out of reach for a while.
Sharing accounts
First things first, getting married won't bring your credit score up or bring it down. Credit scores are connected to Social Security numbers rather than names or other data.
But it can affect your credit score once you and your partner decide to share already existing accounts, whether it's a credit card, a mortgage or something else. This is also the case if you opt to open new accounts together.
Speaking of combining finances, they suggest couples take a close look at their financial styles when it comes to paying bills. Why? The answer is simple-late payment can also take their toll on your credit score. If your accounts are linked, someone else's bad habits can affect your score.
Getting more information
People looking for more information on the financial impact of different life events, like going to college, buying a home or anything else, they check out the website Credit One Bank has set up to answer their questions. The website also provides tools and information on how to manage these life events.
Credit One Bank, N.A, has become the official credit card issuer for both NASCAR and the NHL's Vegas Golden Knights. They offer customers a wide range of consumer credit card products as well, including the Credit One Bank Platinum Visa Credit Card.