The content is accurate at the time of publication and is subject to change.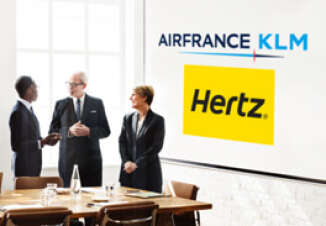 Air France and Hertz Global Holdings, Inc. are renewing their partnership – with Hertz, Thrifty and Firefly continuing in their long-term role as Air France's exclusive car rental company. The inking of this renewal means that customers will get access to special discounts, including saving up to 15% on basic car rentals, as well as exclusive products.
This deal is good for the next four years, and builds on Hertz's 28-year history with Air France–KLM Group. Along with the renewal of this partnership, Hertz, Thrifty and Firefly will all take on the role of exclusive car rental providers for HOP!, the Air France-KLM Group's regional airline. Discounts will be available for HOP! customers as well as those flying with Air France. This new aspect of their partnership with HOP! will be in play until 2020.
Discounts on car rentals
Individuals traveling with both Air France and Hop! will be able to get discounts – those renting cars via Hertz will be able to save up to 15% on basic car rentals. When booking with Thrifty and Firefly they can get up to a 10% discount on a basic car rental. They are all available globally.
Hertz and Thrifty will also roll out car rental products designed for the specific needs of Air France and HOP passengers.
These packages include:
• To keep stress down Hertz will be offering fixed prices throughout the year, along with SuperCover (an excess waiver), unlimited mileage and the ability to add on another driver for free.
• The young renter surcharge that applies to drivers ranging from 19 to 23 years of age, will be waived for those renting cars in France via Hertz.
• Thrifty is offering a 15% discount for families on their basic rental, along with a 50% discount on renting child seats. An additional driver can be added for free.
One-stop shopping: booking flights and rental cars
When booking with Hertz, Thrifty and Firefly, Air France passengers can actually head to a new Hertz, Thrifty and Firefly website. Plus, they will be able to access rental cars from these providers when using the Air France mobile website and app, all of which lets travelers book their flight and rental car from one site in one session.