The content is accurate at the time of publication and is subject to change.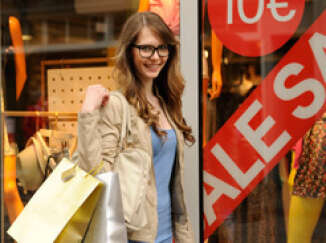 Consumers are feeling more optimistic about their personal finances this year-and it's translating into more holiday cheer.
"Shoppers indicate they have more to spend and more to buy this season, influenced by their underlying confidence about personal finances," said Sanjay Sidhwani, senior vice president of Marketing Analytics for Synchrony Financial. "We are forecasting a 3.6% rise in holiday retail sales."
Just about half (48%) of people said that they started their holiday shopping early this year. But even though financial optimism is up, they are still looking for the best deals.
Holiday lists are longer this year
While consumers might have been looking to cut down on their holiday spending in years past, their lists are longer this season with 32% planning on spending more, up 11% from last year. But this doesn't mean that they aren't budgeting – they are.
More than half (53%) are giving themselves a holiday budget, while over three-quarters (76%) will be doing plenty of comparison shopping to make sure they get the best deal in town.
What will they be buying? Electronics, clothing, shoes, toys, games and gift cards are on many of their shopping lists.
Shopping in real time and online, using credit and earning rewards
While online shopping during the holidays is definitely on to-do lists, heading to the store is still the preferred shopping experience. But nearly three-quarters said shopping online is easier, and their top reasons for buying online include free shipping, convenience and of course, price.
In general online sales have been growing at a rate of 10% year in and year out, but many of the people in this survey said that they discovered sales via a rather traditional method – the newspaper.
How will they be paying for their holiday gifts? Credit cards and rewards are in style, with 80% reporting that they will pay for some of their gifts using credit cards. Rewards are a factor too, with 40% suggesting that rewards play a role in deciding what card they will be using when they hit the stores to do their holiday shopping.
The pre-holiday Synchrony Financial Study was conducted online between September 18 and September 28. They interviewed 1,400 adults, which included an almost equal number of Synchrony Bank cardholders and random shoppers.