The content is accurate at the time of publication and is subject to change.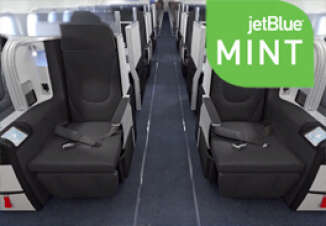 JetBlue is moving along with their Mint transcontinental expansion plan by offering a new wave of Mint Seats on new and expanded routes. These new seats designed to provide travelers with more comfort at an affordable price break - offering everything from private suites to tapas style menus.
They will be offering Mint seats on the following routes: New York (JFK) and Las Vegas (LAS); New York (JFK) and San Diego (SAN); and Boston (BOS) and San Diego (SAN). But along with this rollout of Mint seating on these routes, they will also be adding the option on to the roster for travelers flying between Boston and Los Angeles.
And they are once again offering luxury seating on the popular seasonal and Caribbean routes they are growing, which include their new seasonal service flying between Boston and St. Maarten's Princess Juliana International Airport (SXM).
The Mint experience
What comes with the Mint experience? It is akin to a business or first class experience, offering travelers enclosed private suites along with what JetBlue says is the longest fully-flat bed seating available via the U.S. domestic premium market. The suites also include a 15-inch flat screen TV offering free entertainment.
Travelers also get access to other perks and extras as well including a signature cocktail, a menu featuring tapas-style fare whipped up by New York City restaurant Saxon + Parole, and fresh espresso made on board with their own machine.
More coming
This rollout of new Mint flights is part of their initiative to expand premium service with an eye on having 70 daily Mint flights hitting the tarmac by end of year. When you do the math, it comes out to just about one in every 14 JetBlue flights offering Mint seats.
"When we set out to reinvent premium travel nearly three years ago, we knew we were on to something revolutionary," said Marty St. George, executive vice president, JetBlue. "But even as a constant innovator, we could have never imagined that we would be landing Mint in cities up and down the east and west coasts."