The content is accurate at the time of publication and is subject to change.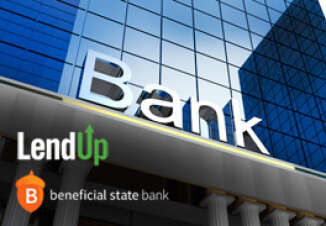 Beneficial State Bank, a social enterprise bank, and LendUp, a socially responsible lender, have inked a deal quadrupling the number of L Card's available to consumers. The L Card is the duo's joint credit card especially designed for people who have trouble getting credit cards due to either a poor credit score or a compromised credit profile.
The two rolled out the L Card in 2015, and this expansion is seen as a way for them to give more people access to credit, specifically those whose credit falls below the point where banks typically authorize a credit card.
"It's uncommon to find a fintech startup and a bank who are so completely aligned on the same North Star, but that's exactly the case with LendUp and Beneficial State. Like LendUp, Beneficial State is committed to expanding consumer credit access in a socially responsible way, and we're proud to call them our partner," said Sasha Orloff, LendUp co-founder and CEO.
"Our partnership is a perfect example of bringing our house-built technology, product design and educational experiences to bear for a similarly mission-driven bank and well-deserving consumers across the country," she said.
Life with subprime credit costs more
Do people with subprime credit pay more for their financial products? Yes, according to the Credit Builders Alliance, finding that they typically pay more interest than people with good credit during their life. They indicate that these consumers pay $250,000 more than their counterparts.
According to research conducted by LendUp, many of their customers don't have access to mainstream credit card products, like rewards credit cards (98.5%) and store reward-based credit cards (66.5%).
The L Card
The L Card was designed to let people build their credit card health over time. The annual fee for this card ranges from $0-$60 annually, and the APR falls in the 19.99% to 29.99% range.
This card comes with a wide range of features, including:
No over-the-limit fees or security deposits
Reports are sent to the three leading credit bureaus
Payments are affordable
They provide users with educational videos to help them become financially savvy.