The content is accurate at the time of publication and is subject to change.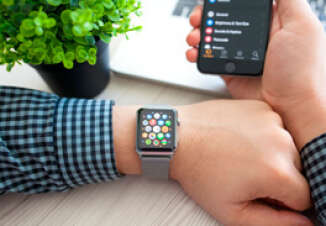 Technology trumps wedding rings, when it comes to which one people would be more upset to lose, according to a new study, showing that 32% of Americans would hate it if they lost or misplaced their cell phone versus 19% saying losing their wedding ring is worse.
Why? For three out of four people mobile technology helps them keep their lives on track and organized. Plus using apps to take care of their banking is also a big plus with 35% checking in with their banks via apps during breaks at work and 31% checking in while eating out whether that's at a restaurant or fast food joint. Yes, mobile banking is trending with Americans.
"We saw consumers really step up their use of digital banking tools – especially mobile apps – in the last year," said Donna Vieira, chief marketing officer of Consumer Banking at Chase. "We continue to enhance our digital banking services to let customers bank how, when and where they want."
Banking technology on the rise
With technology making banking easier, more people are taking advantage of it this year than last whether it is using mobile technology, logging in online or going old school by using ATM's.
This year when it comes to mobile apps people are engaging in many ways, and doing it more often, with:
• 21% more people than last year viewing account balances
• 20% more are using apps to pay bills
• 8% more are using apps to transfer money
But what about online portals and ATM's? Here too gains have been made when it comes to usage, with 37% more using them to get their bills paid, 35% more transferring money with their apps, and 17% more are heading to the the ATM.
All the generations dig technology
Naturally Millennials are using their mobile phones to do just about everything, but GenXers and Boomers are also exploring their options too, becoming more aware of the tools that go hand and hand with their mobile banking app.
While 93% of millennials know they can view their balances using their phones up 18% from last year, 84% of GenXers know that too, up 18%, And last but not least Boomers are getting savvy too with 71% aware too, which is up 16%. There are also upswings when it comes to knowing when it comes to using technology to pay bills and transfer money.
Just about half of people said that they would leave their real time wallet home when their digital wallet will take care of business. But wait there is more, with nearly half (48%) saying that they rather use their phone to pay for purchases rather than pull out cash or a credit card, and 46% will be paying more often with their phone over the next five years.
This survey was conducted the study via telephone and online from April 19th to April 26th. They spoke with 1,008 adults (18 years old & up) living in the U.S for the telephone survey and 1,500 adults for the online version.