The content is accurate at the time of publication and is subject to change.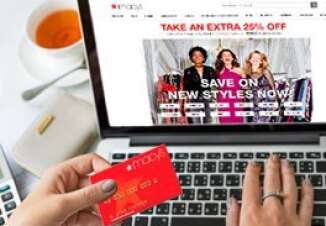 Macy's has given their rewards program a makeover, with this new incarnation of the Star Rewards program including a three-tier system. Cardholders earn Silver, Gold or Platinum levels, with each level providing cardholders with a different set of perks and benefits. With all levels, people get 25% off on one shopping day they choose by using Star Pass coupons and their Macy's credit card.
When the program is officially launched in early October people with a Macy's credit card will be automatically enrolled in one of the tiers in the Star Rewards program. The rewards tier they get is based on how much they spend annually, and their rewards are based upon the tier they are in.
The tiers
People who spend at least $1,200 every year at Macy's will get Platinum status, which comes along with a platinum colored credit card. They also get 5% back in rewards on all purchases, earning them $10 in Star Money with each spend of $200. They can use their Star Money to buy whatever they want, there are no exclusions. Free shipping is also included in this tier no matter how much or how little the item is.
Individuals who typically spend between $500 and $1,199 a year at Macy's will get Gold status, and free shipping is also included in this tier. Silver status is awarded to those whose annual spend is $499 or less.
How do people get upgraded? When they reach the annual spend for the next level they will automatically be upgraded. People can also check what their status is online and keep track of their rewards either online or with the Macys app.
Macy's will be adding more rewards into the Star Rewards program throughout 2018, which they suggest will include cardholders being able to access distinctive experiences and rewards.
Why the change
The new Star Rewards program was developed based upon preferences expressed by cardholders and by looking at people shopping habits.
"Macy's customers have high expectations for their shopping experience, and earning and keeping their loyalty is now more important than ever. We listened to our customers – and with the reinvention of Macy's Star Rewards, we are delivering a loyalty program that will strengthen our relationships and better engage, reward and grow our best customers," said Jeff Gennette, Macy's, Inc. chief executive officer.
"Loyalty is a foundational element of our North Star Strategy, and stronger relationships increase the lifetime value of our customers. We are providing what matters most to her – an enhanced experience both in-store and online, edited and elevated products, compelling value and an excellent loyalty offering," he said.
For more information, people can visit the website.