The content is accurate at the time of publication and is subject to change.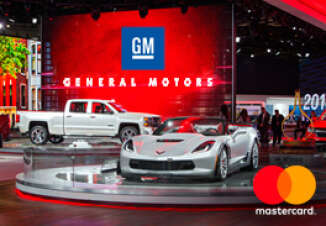 MasterCard and General Motors have inked a deal expanding their relationship, and with this expansion, people will be able to pay for services and parts at over 4,000 Chevrolet, Buick, GMC and Cadillac dealerships located in the U.S. using MasterCard's payment gateway, which was designed to provide customers with a way to make streamlined and safe payments using both debit and credit cards.
This initiative lets consumers use their payment cards to buy all types of car parts, including those from ACDelco, Maven car-sharing services, Chevrolet Performance Parts and others, as well as pay for services, like OnStar guidance and security. They will be able to use this system in real time and when shopping for car parts and services online.
The upgrade
This integration of MasterCard's payment gateway into General Motors portfolio is an extension of their relationship, which began with the rollout of the GM Rewards Card program in 1992 - a program designed to help people earn rewards that could be used to purchase cars, crossovers and trucks.
"Working with MasterCard will help us deliver the best possible customer experience by aligning all of our business units and dealers under one payment gateway that is fast, secure and has global scale," said Ed Vogt, GM's director of e-commerce, U.S. sales operations.
MasterCard and GM also collaborated on OnStar Go, a cognitive mobility platform, which lets people actually pay for their everyday purchases, like picking up a latte or getting some gas, without leaving their car. OnStar Go actually runs on both Masterpass payment technology and MasterCard Digital Enablement Services and has been integrated into GM's cars starting this year.
People will also be able to use MasterCard's payment gateway to get over-the-air updates for OnStar Go.
More from MasterCard
This news comes on the heels of MasterCard's announcement that they will be working with PayRange to enable vending machines to take non-cash payments by using Masterpass in combination with the PayRange app.