The content is accurate at the time of publication and is subject to change.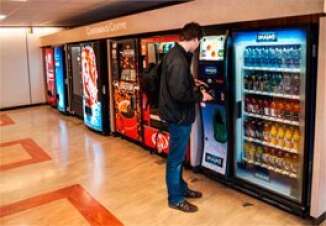 If you don't have cash on hand getting snacks out of a vending machine can be hard if not impossible, but if MasterCard has their way it will no longer be an issue, because they are partnering with PayRange, to give people an easy way to pay using Masterpass along with the PayRange app.
PayRange is a company specializing in mobile payment solutions for machines, and this partnership means that people will be able to pay for their snacks and beverages at vending machines with their mobile device in 300 cities across the United States and Canada.
"Convenience is as important to consumers as personalization and customization. Paying with a mobile phone seems like such an obvious answer to a pain point that has existed for decades," said Betty DeVita, chief commercial officer, Digital Payments and Labs, MasterCard.
"Whether it's a physical card or a tap of a phone, as mobile usage becomes a way of life, consumers will expect all retail touchpoints to be as mobile-friendly as possible and all commerce experiences to be frictionless," she said.
Going cashless at the vending machine
When this initiative gets underway people would be able to upload the PayRange app into their mobile device from either the Apple App Store or the Google Play Store. Once that is done, they can use the app to pick out the beverage or snack of their choice and then use Masterpass to pay for it.
The security included with Masterpass would be in play as well. With the Masterpass app, people can store everything from credit and debit card details and shipping information to payment preferences in their mobile device.
Back to the future one step at a time
According to MasterCard, shoppers are up for letting machines help them checkout faster. They cite a Cisco Customer Experience report in which 61% of people indicated that they would be willing to shop at stores that are totally automated and use kiosk stations running on virtual service rather than having flesh and blood customer service staff on hand. While more than half (52%) would rather pay at a self-service station than wait in a line to be checked out by an actual person.