The content is accurate at the time of publication and is subject to change.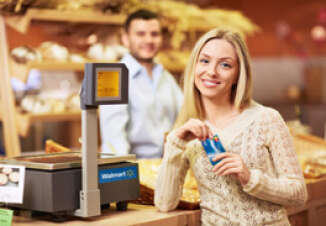 Online and mobile purchases are taking off with consumers, and in keeping with that theme Walmart has teamed up with MasterCard by MasterPass, so that people will now be able to make digital payments using the digital payment system on all Walmart websites.
This initiative is being rolled out this year, and with MasterPass people will be able to make payments using all their mobile devices and computers, while getting enhanced security. The system stores all the users shipping and payment card information, so they can pay with a click or two.
This new initiative signals a deepening of the relationship between MasterCard and Walmart. "We have enjoyed a longstanding business relationship with Walmart and are pleased to expand this into the online and mobile channels through MasterPass," said Michael Cyr, group executive, U.S. Market Development, MasterCard. "With MasterPass, consumers can go online, place their order and pay with just a click. The burden of entering delivery and billing information is eliminated, further enhancing the Walmart online customer experience."
Getting MasterPass
To get MasterPass by MasterCard people can set up an account on the website, but they can also sign up with a bank that has started offering the service to consumers.
Signing up is free, and once the account is set people can then buy anything from clothing to an airline ticket with MasterPass, as long as they see the "Buy with MasterPass" button on the website.
What is MasterPass
MasterPass is also being outfitted with MasterCard Digital Enablement Service (MDES) this year, which means that users will also get a greater level of security when using the payment system. They announced this change late last year.
For people using MasterPass this means that when buying merchandise or services with this digital platform, rather than their financial and personal information being transmitted to the retailer, a token is sent instead. This token is used once, letting the payment go through and the person's account to be charged without any sensitive data changing cyber hands.
MasterPass was initially launched in 2013 and now accepted at merchants and retailers in 24 countries.