The content is accurate at the time of publication and is subject to change.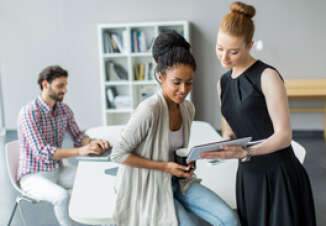 Middle market companies are driving job growth with more than 50 million people on their payrolls and $6.2 trillion getting pumped into the economy from them, according to a new report by American Express and Dun & Bradstreet.
The two companies have released the first Middle Market Power Index.  Dun & Bradstreet's proprietary databases of commercially-active companies were used to create the report, which looked at the traits and economic impact of middle market companies in the U.S.
Move over small business
Small businesses have gotten a lot of credit for growing the economy, but this study shows that middle market companies are doing their part. While making up less than 1% of businesses in the U.S, they make a super-sized economic contribution across all industries. A little more than one dollar out of every five in revenue is generated by a company in the middle market, with these companies employing one out of every four workers.
Their impact on employment is not a new development. Since 2008 they have consistently led job growth, while also demonstrating a 4.4% upswing in private sector employment, surpassing both smaller and larger businesses.
Smaller businesses may actually employ more U. S. workers, but mid-sized companies, have generated 92% or 2.1 million of the 2.3 million new jobs added to the economic landscape over the last seven years.
"Our first-ever look at the economic characteristics of middle market firms underscores their clout and the significance of their contribution to our economy," said Susan Sobbott, president, Global Corporate Payments, American Express. "Since 2008, middle market companies have been the unsung heroes of employment growth."
Location, location, location
On average, middle market companies make up just 0.07% of all companies in the U.S, with seven states exceeding that average:
Illinois (1.1%)

Wisconsin (1.1%)

Massachusetts (1.0%)

Michigan (1.0%)

New Jersey (1.0%)

New York (1.0%)

Ohio (0.9%)
When looking at areas or territories rather than states, three came out on top:
Washington, D.C. (1.8%)

Puerto Rico (5.1%)

U.S. Virgin Islands (3.9%)
Three states had fewer middle market companies:
Florida (0.36%)

Louisiana (0.44%)

Colorado (0.48%)
The Middle Market Power Index report is based on data from Dun & Bradstreet's commercial databases, containing information about 19 million businesses. They looked at data from between 2008 and 2014 from middle market companies with revenues in the $10 million to $1 billion range.