The content is accurate at the time of publication and is subject to change.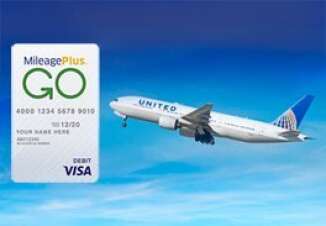 Netspend, a provider of pre-paid cards, has teamed up with United Airlines to rollout the MileagePlus GO Visa Prepaid Card. When getting this pre-paid card people earn one United MileagePlus mile for every dollar they spend.
Miles earned with the MileagePlus GO Visa Prepaid Card can be redeemed for travel with United's MileagePlus loyalty program. People can earn up to 2,500 points every month, and at the end of the month, they are deposited into the users United MileagePlus account.
Getting the card, benefits, and details
When signing up for this prepaid card, people do not have to go through the credit check process, and there are no late fees or interest payments to wrangle with when opting to go with this card.
There is an annual fee of $85 for this card. The fee is taken off the cardholder's card balance right after they load their card for the very first time.
The MileagePlus GO Visa Prepaid Card can be reloaded, and since it has the Visa logo, it can be used at merchants and other spots that take Visa debit cards. To earn points when using the card in brick-and-mortar stores people must choose the credit option at the terminal.
Miles are earned on purchases, but some purchases and transactions do not earn miles including purchases made with a PIN and when using the card to get cash.
It comes with a mobile app
A mobile app comes along with this card. It can be used by cardholders to track their spending, as well as keep up with how many miles they have earned.
Cardholders can also use the app to load checks, and use its location feature to find places where they can load it up.
For more information or to order this card, people can visit the website.
Republic Bank & Trust Company is the issuer of the MileagePlus GO Visa Prepaid Card, while Netspend is the provider of the card. Netspend was founded in 1999, and their cards are used by 10 million consumers.