The content is accurate at the time of publication and is subject to change.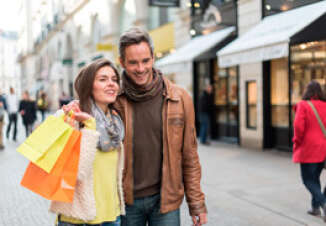 If you thought that Millennials shop or go out more, you would be right, according to a new study. But you might be surprised to learn that they actually spend less than other consumers. And when they spend money, they tend to prefer using checks, cash and debit cards over credit cards.
TD Bank's Consumer Spending Index looked at how the generations spend their money, and found that even though Millennials go out twice as much as GenXers and three times more than Baby Boomers, they actually spend less every month than their older counterparts.
In general consumers in the U.S. spend over $1,000 per month on discretionary purchases, which include everything from dining out and fast food to shopping in stores, going out to the movies and travel. While spending over $1,600 per month on their monthly bills, like mortgage payments and rent. When you do the math that adds up to $32,000 annually, and does not include other kinds of payments, like car payments/insurance, loan or debt repayments or healthcare. When you look at what Millennials are spending you find that they are spending just $26,000 per year – 23% less than Baby Boomers and 27% less than GenXers.
Java, fun and a good dose of frugalness for Millennials
Millennials are definitely having a purchasing upswing, when it comes to shopping and eating out, and saving more while doing it. Yet there is one area that they outspent GenXers and Baby Boomers - Java and fast food.
With a need for caffeine and eating on the go trending with Millennials the study found that they ate out 13 times each and every month, definitely outdoing GenXers who ate out eight times a month, while Baby Boomers sat down for a nice meal at a restaurant five times a month. Yet even here Millennials spend on the cheap at just $103 while GenXers shelled out $123 and Baby Boomers $139.
What about coffee? Millennials either grabbed coffee or food on the go 11 times each month, which was definitely more than their older counterparts with GenXer's doing so seven times a month and Baby Boomers five times.
Millennials love credit and debit cards
When it came to paying, Millennials used their credit and debit cards almost equality, here too showing different patterns than their counterparts.
For the most part Americans use their credit card to pay for $4,700 purchases a year, while also shelling out $2,400 in cash. While checks and debit cards and saved are for discretionary purchases. Here too, Millennials deviate from the norm – using cash, debit cards and checks more often than the other generations, and charging 22% less. Using debit cards, cash and checks for half of their purchases, and credit cards for just 33%.
"Surprisingly, younger Americans are spending more with debit, cash and checks than credit. These payment methods are certainly necessary, but without a balanced spend on credit consumers are passing up cash rewards and the opportunity to build their credit profile," said Julie Pukas, head of U.S. Bankcard and Merchant Solutions at TD Bank. "For those who dine out, shop and go out frequently, strategically using credit for those purchases can impact your overall budget."
TD Bank's Consumer Spending Index was conducted between April 1-12 with 1,500 people.