The content is accurate at the time of publication and is subject to change.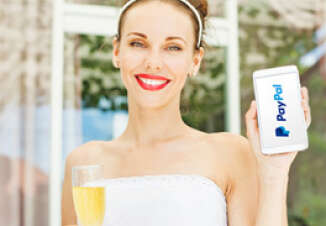 When it comes to paying for their weddings, Millennials are phoning it in—literally.
A recent survey from PayPal and The Knot, a wedding resource website, showed that Millennial couples are paying wedding vendors via electronic and mobile payments, largely done via smartphone.
Saying that this demographic is "more financially savvy" than previous generations, Kristen Maxwell Cooper, The Knot's deputy editor, added that since "electronic and mobile payments are becoming the norm in all facets of life, it's no surprise that engaged couples want this option."
Perhaps due to "check fatigue"—the feeling that they are always writing checks, reported by 58% of brides—89% of couples prefer the convenience of paying vendors electronically. Forty-four percent of couples said they wished they could pay all wedding vendors with their phones, and 42% were surprised that not all vendors accept electronic payments. Almost half (48%) of couples were worried they'd forget to pay vendors on the big day, and 70% wished they could set up automatic payments for any remaining balances on the wedding day.
Budgets are a priority
Besides using their smartphones to pay vendors, Millennial sweethearts are also being financially savvy by setting wedding budgets. Thirty-one percent of couples reported deciding on a wedding budget as soon as they got engaged. Brides took the lead on managing that budget, with 45% saying they are responsible for monitoring spending and keeping to the budget. Twenty-nine percent of couples said they manage the wedding budget together.
Stress is always a factor in wedding planning
Regardless of how they pay for their weddings, the planning is often stressful for couples. Sixty-eight percent of brides-to-be said they catch themselves thinking about wedding budgets and finances all the time,and 49% said they've had a few difficult discussions with their partnersabout wedding finances.
Engaged couples use different methods to pay different wedding vendors. Ninety-nine percent of couples paid for at least some services using joint checking or savings accounts. Thirty-six percent used credit cards to pay certain vendors, and 21% said using a credit card enabled them to spend more than they could actually afford. Nearly half (49%) said they used cash to pay at least one of their wedding vendors. Sixteen percent borrowed money from friends or family to cover wedding expenses, and 17% took out loans from financial institutions.
Methodology
The Knot commissioned a survey which included responses from 1,111 people planning weddings within six months.