The content is accurate at the time of publication and is subject to change.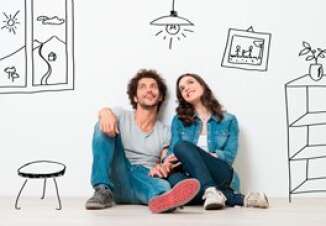 For many buying a home is part of the American dream, and Millennials are onboard, according to a new study by Chase. They found that for 33% of Millennials buying a new home is on their agenda over the next four to five years, while 24% will be closing on a home over the next three years. Going hand-in-hand with this goal is keeping track of their credit score. Why? They know it will bring them closer to realizing their home buying goals.
The Chase Slate 2017 Credit Outlook found that Millennials were catching up to their elders, and in some ways surpassing them when it comes to keeping an eye on and boosting their credit scores. "Millennials are really doing their homework in preparation for buying a home in the near future," said Mical Jeanlys, the general manager of the Chase Slate credit card.
"That includes monitoring their credit, which is key when purchasing a home," he said.
Millennials are all about checking their credit scores
Millennials are invested in knowing their credit scores, with 39% checking their scores on a monthly basis, while just 31% of Gen Xers and 28% of Boomers are doing the same.
And they mean business, with 62% of millennials who are looking to increase their credit score reporting that they have a plan to get it done. "Americans – especially Millennials – are planning for their next major milestone," says Farnoosh Torabi, a personal finance expert and Chase Slate Financial Education Ambassador. "They're assessing where they stand today and working to improve their tomorrow, whether that means buying a car or home, co-signing on a lease, walking down the aisle or applying for a new job."
Hispanic Consumers growing credit health
This study also looked at Hispanic consumers, finding that they too are invested in keeping track of their credit scores, with 88% having looked at their credit score because they were interested in buying or refinancing a home or meet some other life goal.
When it comes to increasing their credit score, 81% reported that they have at the very least made one move that would directly affect their credit score in a positive way, up 9% from the general population.
And 64% are looking to have their children learn about credit, and understand its importance.
The Chase Slate 2017 Credit Outlook was conducted by Socratic Research, an independent research company, from March 15 to April 3, 2017.