The content is accurate at the time of publication and is subject to change.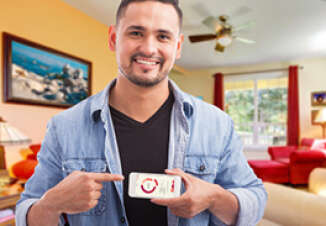 Going mobile is trending with Hispanic consumers when it comes to keeping track of their finances, according to a new study by Bank of America. It showed that 78% of respondents have a mobile banking app in their cellphone or tablet, and 69% indicated that digital banking is their primary form of banking, outdoing their non-Hispanic counterparts, with just 51% of them using mobile apps.
This data was part of the Bank of America Trends in Consumer Mobility Report, which looked at trends in banking and mobile usage. The upswing in mobile banking by Hispanic consumers was not new news to Bank of America, having recently rolled out its mobile app in Spanish.
"This survey reinforces what our Hispanic customers show us every day ‒ the Hispanic community leads the way in mobile adoption, usage and engagement," said Michelle Moore, head of digital banking at Bank of America. "We're committed to delivering solutions that meet the needs and behaviors of these consumers, such as our recently released mobile app available in Spanish."
Paying with phones trending
Is paying at the register with mobile devices trending too? You bet, with 56% of Hispanics indicating that the already use their mobile device when checking out or they would, up 20% from their non-Hispanic counterparts, with only 36% of them indicating the same.
Also, 77% of Hispanic consumers are on board when it comes to using newly emerging payment methods, like social media apps and mobile wallets, with 72% saying that they are already using or would use a peer-to-peer payment service offered by their bank.
Banking anywhere
Just about half of Hispanic respondents, who are already on board with using a mobile banking app, log in at least one time a day. Here too they out perform non-Hispanic respondents, with just 32% of those logging into their accounts once a day.
But many are going above and beyond other groups when it come to mobile banking. Hispanics are more likely to use mobile banking apps to deposit a check (53%) and to use it to send money (37%) to friends and family or others.
What about using mobile banking alerts? Here too alerts are trending with Hispanic consumers, who are more likely to use mobile banking alerts (93%). They use them specifically to find out if their balance is low (50%) or if their credit or debit card is over its limit (48%).
The Bank of America Trends in Consumer Mobility Report was conducted between March 29 and April 12, 2016. They surveyed 1,004 people in the U.S. over the age of 18.