The content is accurate at the time of publication and is subject to change.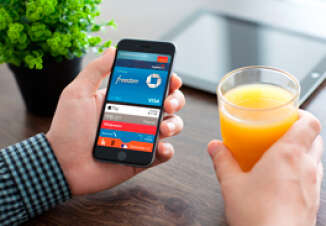 Ever since Apple Pay hit the market last year, banks have been signing up so their customers can use the new mobile payment service. Over 20 banks and credit unions with MasterCard branded cards in their portfolios have recently come on board. Cardholders with these institutions can use their iPhones to pay for everything from groceries and gas.
This warm reception by card issuers is seen by MasterCard to be a win for cardholders. "Consumers want to be able to shop where they want, when they want and how they want - and they want to do so with the confidence that their money is safe and secure no matter how they choose to pay," said Matt Barr, group head, U.S. Emerging Payments MasterCard.
Not all retailers take Apple Pay so to get consumers started using it MasterCard has released an app of their own called MasterCard Nearby app which lets people find stores where they are that accept contact-less payments. It's available at the App Store.
The newbies
The latest banks offering their MasterCard credit and/or debit cardholders access to Apple Pay include: US Bank, Hiway Federal Credit Union, KeyBank, Lake Michigan Credit Union, Logix Federal Credit Union, Meijer Credit Union, Mission Federal Credit Union, Point Bank, Prosperity Bank, Sandy Spring Bank, Silicon Valley Bank, Wanigas Credit Union, Wesbanco, West Community Credit Union, BMO Harris, Cambridge Savings, Canton School Employees Federal Credit Union, Centennial Bank, Citadel Federal Credit Union, First Community Bank & Trust, First Community Credit Union, Foothill Federal Credit Union, and GTE Financial.
People with a small business MasterCard from either Bethpage Federal Credit Union or Navy Federal Credit Union can also now use Apple Pay.
How it works
Apple Pay is included with the iPhone 6 and the iPhone Plus. When a credit or debit card is added to the mobile payment system the number is not stored. Instead the system creates a one-of-a-kind Device Account Number, which is then encrypted and securely stored in the device. Each time people pay, a unique security code is created just for that transaction adding a layer of security.
When people want to pay for a purchase they hold their phone close to the contact-less card reader, with their finger on the Touch ID pad to verify their identity.