The content is accurate at the time of publication and is subject to change.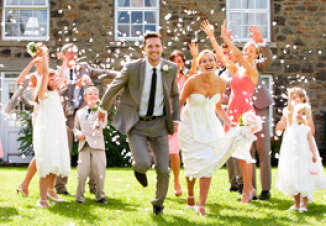 Saying yes to a wedding invite often means digging deep into your pocket. But more people are planning on doing just that this year compared to 2014, and they will be spending more on everything from wedding gifts to airfare to get to the venue.
The latest American Express Spending & Saving Tracker looked at wedding trends and finances, finding that the number of Americans heading out to weddings is up a whopping 18% over 2014. This upswing also translates to a willingness to spend more, with many planning on spending an average of $673 on each wedding, up 13% from last year.
Weddings for fun and travel
This trend is partially due to people using weddings to show off, have some fun, and maybe get in some traveling.  "Not only are Americans saying 'yes' to attend more events, but they're also taking advantage of the opportunity to purchase and show off a new outfit, or turn a destination wedding into a mini-vacation," said Jed Scala, senior vice president for Proprietary Lending at American Express.
For consumers wedding costs including everything from getting a new outfit to paying for a hotel stay, and they were very clear about what they are willing to spend more on this year including:
Airfare ($225, up 125% from 2014)

Hotel ($170, up 86% from 2014)

Dining out ($116, up 90% from 2014)

Dressing up ($95, up 53% from 2014)
Yet while they will spend on wedding travel, Americans don't love the idea of destination weddings even when heading to fun or exotic locations. Seventy-two percent said that weddings in far off lands are too expensive, and 62% don't like the idea of having to take a vacation to attend a wedding.
But Millennials are on board with the idea, and are more likely to say that these kinds of weddings are a great excuse to get out of town (64% vs. 52% of Gen X).
The gifts keep on coming
Anyone who has been to a wedding knows that it's not just about the big day, there are wedding showers and bachelor/bachelorette parties to go to, and they too can cost you.
Some of these expenses are not included in the $673 people budgeted for weddings, and can include gifts for:
Bridal shower  - $77

Bachelor/bachelorette - $86

Engagement party  - $89
What about wedding gifts? On average, people plan on spending $106, down a few dollars from 2014 when they spent $109. But if the person getting married is a member of the family they are willing to spend $142, once again down a few dollars from last year, when they spent $150.
While presents are good, cash is king with 49% of couples indicating that it's their top wedding present pick, with registry gifts becoming trendy (19% vs. 16% in 2014).
The American Express Spending & Saving Tracker was conducted between February 25 and March 3, 2015. They interviewed a random sample of 1,882 adults.