The content is accurate at the time of publication and is subject to change.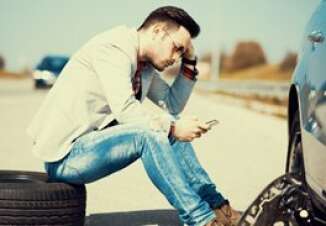 Synchrony Financial and Mavis Discount Tire have teamed up to give people shopping at the tire retailer a way to finance their big-ticket purchases, whether that is a set of tires or some other kind of automotive service. With this card, people can forgo paying interest on purchases of $199 or more if they totally pay it down within six months.
This card was designed to give customers access to an easy-to-use consumer financing program, which lets them pay their purchases off over time, rather than worry about shelling out a lot of cash right away.
"The Synchrony Car Care financing program is an important tool for growing our customer base and providing them with a new range of purchasing options," said Dave Sorbaro, Co-CEO of Mavis Discount Tire.
"Synchrony Financial's commitment to providing safe, easy financing will help us continue to meet our customers' needs," he said.
The card
People can apply for the Mavis Discount Tire Credit Card via the website or head over to a local Mavis Discount store. Cardholders also get access to exclusive cardholder discounts, and the card is accepted at gas stations around the country due to its connection to the Synchrony Car Care network. There is no annual fee for this card, and people can manage it via an online portal.
"A set of new tires can be a significant purchase and with winter fast approaching, Synchrony Financial is proud to offer a consumer financing option that will allow customers to access the tires and services they need to keep their vehicles running smoothly in all weather conditions," said Glenn Marino, Executive Vice President and CEO of Payment Solutions for Synchrony Financial said.
Special promotion
People who opt to buy four Mavis Traction Control Tires can get a $100 Visa Prepaid card as a special promotion when using their Mavis Discount Tire Credit Card. The deal also applies to purchases over $599 and runs from now until the end of the year. People opting to get this promotion will have to fill out a rebate form.
Currently, there are over 334 Mavis Discount Tire locations available in the U.S., where people can buy tires and access automotive services. Besides these locations, there are also three franchises in New York, Massachusetts, Pennsylvania, New Jersey and Connecticut.