The content is accurate at the time of publication and is subject to change.
This content is not provided by Citi. Any opinions, analyses, reviews or recommendations expressed here are those of the author's alone, and have not been reviewed, approved or otherwise endorsed by the Citi.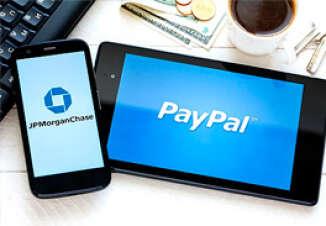 PayPal has partnered up with JPMorgan Chase so that cardholders can now quickly add their payment cards via Chase Pay to their PayPal account. This partnership also means that in the future cardholders will be able to pay for merchandise bought at retailers in the PayPal network using their Ultimate Rewards points.
This partnership is seen as a way to give consumers more flexibility and open the door to more innovative payment methods. "This partnership is about deepening our relationship and leveraging each other's core assets to deliver simple, secure and truly transformative payment experiences for our joint customers," said Dan Schulman, PayPal's CEO.
"Our deep platform integration will add tremendous value to consumers who can now use PayPal and Chase products in more places, but also create new payment methods that will allow consumers to have more spending power at our millions of merchant locations online, in app and in store," he said.
With this deal, PayPal will also be able to use the ChaseNet, a closed-loop payment network, when processing payments.
PayPal and Citi talking points
Citi, a Credit-Land.com advertising partner, and PayPal are also expanding their already existing relationship so that cardholders will be able to make payments with their ThankYou Points when shopping at U.S. based merchants. With this upgrade, they will be able to pay for purchases using some or all of their points.
This new feature is expected to start up in 2018. "At Citi, we continuously strive to enable consumers to transact when they want and how they want," said Ralph Andretta, head of U.S. Branded Cards, Citi.
"Our expanded agreement with PayPal will enable our 14 million ThankYou Rewards members in the U.S. to utilize an innovative, intuitive new channel to redeem their points. We also look forward to offering this capability on a global scale in the near future," he said.
This upgrade to their relationship comes on the heels of the rollout of a series of new mobile app features by Citi. These features include the ability to dispute some credit card charges from within the app, as well as being able to look at or download statements and keep track of replacement credit cards sent to them by Citi in real time.