The content is accurate at the time of publication and is subject to change.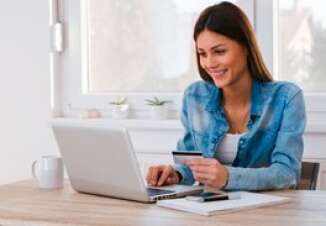 Checking out fast and easy is a priority whether you're shopping in real time or online, and for American Express cardholders it has become easier when shopping digitally with more retailers integrating Amex Express Checkout, their online payment system, into their online platforms.
The newest additions are Hulu, Neiman Marcus, Preferred Hotels & Resorts, Staples, 1-800-FLOWERS.COM, Delta Air Lines, Avis Car Rental, and Budget Car Rental. They just joined Airbnb, Boxed, Braintree, Newegg, Stripe and Ticketmaster in supporting Amex Express Checkout.
The technology used in Amex Express Checkout was designed with both cardholders and merchants in mind. "We are committed to providing our merchant partners and Card Members with the most seamless and secure online checkout experience," said Luke Gebb, senior vice president, Enterprise Digital, American Express.
"Amex Express Checkout leverages proprietary technology and our closed loop business model to deliver meaningful results for our customers. We're pleased by the results, including high conversion rates for merchants and strong repeat usage from our Card Members," he said.
Growing since 2015
American Express initially rolled out Amex Express Checkout in 2015, offering their cardholders a way to check out when shopping online at merchants taking part in this initiative.
It works by letting people with American Express cards pay by using their account login from their already existing Amex account. This way they do not have to key in their personal data manually. People simply log in and the system fills in their information automatically. All that is left to do is confirm the order.
Reducing shopping cart abandonment
With this technology, Amex is leveraging their end-to-end capabilities to provide cardholders with a better experience, and merchants with ways to maximize results.
American Express points to a recent study by PYMNTS.com in which they discovered that by using Amex Express Checkout merchants and retailers can bring down their shopping cart abandonment rates, as well as boost their conversion rates by as much as 50%.
The study also found that people using Amex Express Checkout in 2015 actually ended up spending 78% more on average than other Amex users. In 2016, cardholders using Amex Express Checkout spent 54% more than cardholders who were not using Amex Express Checkout.
For more information on Amex Express Checkout, people can visit the website.