The content is accurate at the time of publication and is subject to change.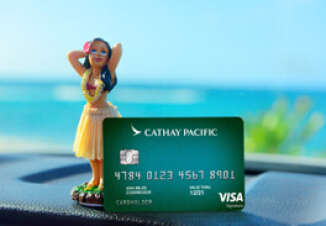 Travelers have new rewards earning credit cards to choose from with the rollout of Cathay Pacific Visa Signature card. With this card issued by Synchrony Bank, people earn two Asia miles for every dollar they spend booking flights with Cathay Pacific Airlines along with other in-flight purchases.
People can pick up 25,000 bonus miles when they spend at least $2,500 over the first three months of having their new card. This bonus translates into a one-way upgrade on a seat or an economy class ticket on certain routes, with partner airlines.
The card is seen as a way to give consumers more when hitting the skies.
"At Cathay Pacific we're always striving to create a rewarding and meaningful travel experience," said Eric Odone, vice president sales and marketing, Americas, Cathay Pacific. "The introduction of this credit card with Synchrony Financial is about further enhancing our ethos of 'a life well-travelled.' Being able to anticipate and successfully meet our customers' needs has always been our priority and we firmly believe the features and reward options of this new credit program will enrich the journeys of all who travel with us."
They also earn 1.5 Asia miles per dollar when dining out whether traveling or at home, and when traveling outside the U.S. they earn 1.5 miles per dollars. All other purchases net them one point per dollar.
Redeeming points
When travelers are ready to redeem their points they can fly on Cathay Pacific, as well as flying with oneworld and other partner airlines. They can also check out some one-of-a-kind travel packages, as well as multi-destination fares.
When they reach 25,000 miles people can get a one-way upgrade on Cathay Pacific. It costs 20,000 Asia Miles to get an upgrade from Economy to Premium Economy or Premium to Business Class. People can also use their 25,000 bonus miles to book an economy seat on certain routes, with American Airlines, British Airways and Alaska Airlines.
Rewards can also be used to book rooms in hotels, tours and car rentals, as well as for gift cards that can be used in stores and restaurants in the U.S.
More benefits
With this card there are no foreign transaction fees to wrestle with, and people get free green tier membership in the Marco Polo Club, Cathay's frequent flyer program. The Cathay Pacific Visa Signature card is chip-enabled, and includes benefits that normally come with a VISA card, including Roadside Dispatch, Emergency Card Replacement and Emergency Cash Disbursement.