The content is accurate at the time of publication and is subject to change.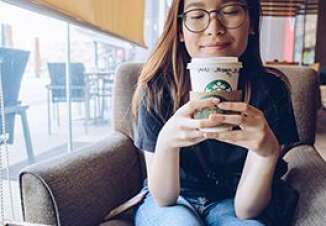 Starbucks is upgrading its rewards program, and with the new changes there is a special perk for people with the Starbucks Rewards Visa Credit - their Stars (points) never expire. This is also the case for people who have a Starbucks debit card in their wallet. Individuals who do not have the Starbucks Rewards Visa Credit or debit card will still see their stars expire at the 6-month mark.
Also, as of April 16, all rewards members located in the U.S. and Canada will be able to earn Stars sooner. According to Starbucks means that people can earn enough for a reward in just two or three visits. The new rewards redeeming options they are rolling out are as follows:
25 Stars equal an extra espresso shot, dairy substitute or an additional flavor

50 Stars equal a free brewed hot coffee, hot tea or select bakery Items

150 Stars equal a handcrafted drink, hot breakfast or yogurt parfaits

200 Stars equal a lunch sandwich, protein box or salad

400 Stars equal select merchandise or packaged coffee
Has the point earning structure changed? The answer is no with people still earning 2 Stars for every buck they spend using the Starbucks card they've registered.
Growth driven upgrade
The upgrade to the Starbucks rewards program appears to be partially driven by the popularity of the program, which was initially launched in 2009. Over the past two years, it has experienced a 25% upswing in membership, hitting the 16 million member mark in December of last year. For Starbucks, this means that 40% of its sales are linked to rewards related transactions in the United States.
"Since introducing Starbucks Rewards ten years ago, we've experienced tremendous growth and continued to evolve the program to meet the changing needs and purchase patterns of our customers," said Matthew Ryan, Starbucks chief marketing officer. "These new updates put choice in the hands of our customers and a personal touch they can only get from Starbucks."
The Starbucks Rewards Visa Credit
With the Starbucks Rewards Visa Credit new cardholders earn 6,500 Stars during the first three months they have the card once they spend $500. On a day to day basis, they earn 3 Stars for every dollar they spend at Starbucks as long as they use a Starbucks Card that was loaded virtually with their Starbucks Rewards Visa Cards. If they just use their Starbucks credit card at the register they get 2 Stars per dollar.
They also earn 2 Stars for every two dollars they spend when shopping for groceries, and commuting, as well as when paying for internet, cable and phone services. All other purchases earn them 1 star for every $4 they spend.
Individuals who want more information about this credit card can check out the website.