The content is accurate at the time of publication and is subject to change.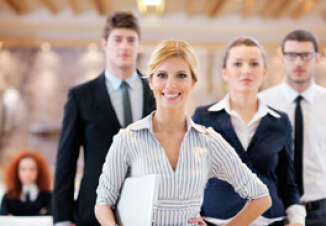 The 2016 JPMorgan Chase & Co. Business Leaders Outlook report looked at how leaders in these areas felt about not only their own growth, but the global economic trends as well.
"While business leaders admittedly see challenges overseas, they continue to see opportunities at home and anticipate positive growth in international markets over the next few years," said Jim Glassman, senior economist at JPMorgan Chase.
When it comes to expectations most executives working with middle market and small businesses are feeling optimistic, according the study, where 70% were looking to grow their businesses over the next year.
There is more variety in their responses when it comes to how the global economy will fare over the coming months, with 27% of small business executives and just 10% of midlevel execs forecasting positive growth.
Downturn in economic forecast
When it comes to their local economic forecast, 50% of executives are bullish on the economy, down 12% from last year. And when it comes to the national picture, only 39% see things with a positive spin, and here, too, that number is down from last years 68%.
What about the world economy? The downturn is sharp with 10% weighing in with a positive outlook, down 9% from last year when 19% said things were looking good.
The challenges, the growing pains
Any business faces challenges, but what are the top ones this year? For 74% of respondents revenue growth is the top concern, and for retailers the number was even higher coming in at 86%.
But that is not the only challenge, with 40% saying that their access to talent is limited and in the service industry the number goes up to 50% with construction companies feeling the talent crunch even more – 65% are struggling to find qualified new hires. On the other hand, labor costs are a concern for 40%.
Yet even with these challenges and pessimism being a trend when looking at the global economy, when it comes to their company's performance in the international arena they expect strong growth.
"The challenges facing middle market businesses, especially those related to hiring talent and managing costs are indications of growing pains," said John Simmons, Head of Middle Market Banking & Specialized Industries, Commercial Banking, Chase. "It is a positive sign that even with concerns about the global economy, their growth expectations remain strong."
The 2016 Business Leaders Outlook survey took place in January/February with 1,394 middle market senior decision makers and 950 from small businesses taking part in the online survey.