The content is accurate at the time of publication and is subject to change.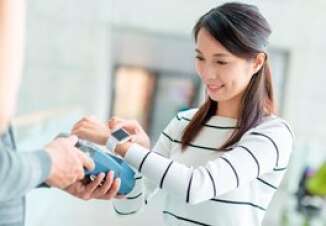 Fitbit is gearing up to release the Fitbit Ionic, their first fitness smartwatch, designed to provide users with everything from personal coaching to playing music. When it is rolled out, people will also be able to load it up with credit and debit cards and make payments using tap and go technology.
The Fitbit Ionics purchasing capabilities are due to partnerships with the three big payment processors: MasterCard, Visa and American Express, as well as issuers like Bank of America, Capital One, HSBC, KBC Bank Ireland, ANZ, Banco Santander, OCBC Bank, UOB, US Bank and the Royal Bank of Canada.
With the Fitbit Ionic, users will be able to tap and go when checking out at contactless terminals and when shopping at brick-and-mortar stores. "Consumers today are expecting technology to help them accomplish life's daily tasks with as few steps or clicks as possible," said Kiki Del Valle, senior vice president, Commerce for Every Device, MasterCard.
"By adding payment capabilities to a Fitbit device, MasterCard cardholders who are already on-the-go can easily buy what they need without having to bring their wallet with them, she said."
Paying with Fitbit
To get started making payments with the Fitbit Ionic smartwatch people simply add their card into the app that comes along with the watch, and once that is done they will be able to make payments.
The payment will go through using token-based technology regardless of what network it is on. The system creates a token that is a stand in for the card number, expiration date and other personal data. The payment then goes through using the token.
Tokenization is employed to provide people with another layer of security and thwart hackers and cyber thieves. People will be able to pay with the Fitbit Ionic in in the U.S., once it's released in October, and they expect to be rolling it out globally in the coming future.
"Visa continues to focus on delivering the tools and technologies that empower our partners to offer safe, secure and convenient payments to consumers via connected devices," said Jim McCarthy, executive vice president of innovation and strategic partnerships at Visa Inc.
"Partnering with Fitbit on its new Fitbit Pay service is another step forward in the growth of Internet of Things and shows how Visa is enabling companies across the technology industry to help us all move towards a cashless future," he said.
Getting the smartwatch
People can pre-order the Fitbit Ionic via the website, where they can also get more information about the design and functions that come along with the smartwatch, which includes being water resistant and scratch proof. People can also use a wide range of apps, including Starbucks, Pandora, and Strava, with the watch. They expect to be adding more apps into the mix during the fall.