The content is accurate at the time of publication and is subject to change.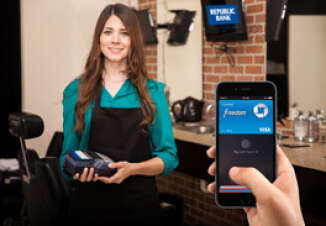 Apple Pay has caught on like wildfire with consumers since its launch just over a year ago. Now people doing their banking with Republic Bank can use their Apple devices to make payments whether buying lunch or a big ticket item.
Bringing Apple Pay into their portfolio is seen by Republic Bank as a way to give people more flexibility and more options when it comes to making mobile payments, as well as bringing a higher level of security into the equation.
"We continually look for innovative approaches to make the lives of our clients easier," said Michael Sadofsky, senior vice president of marketing. "We are excited to offer Apple Pay as an easy, secure payment solution that allows our clients to bank when, where and how they want."
Apple Pay can be used with the iPhone 6, iPhone 6 Plus, iPhone 6s and iPhone 6s Plus, as well as the Apple Watch. If you are using Apple Pay to buy merchandise or make payments within certain apps, it is compatible with select devices, including iPhone 6, iPhone 6s, iPhone 6 Plus, iPhone 6s Plus, iPad Air 2 and iPad mini 3.
Security, security, security
Security is a real concern for consumers these days, and with Apple Pay the actual card numbers are not actually stored on the device or the servers at Apple. Instead they receive a one -of-a-kind device account number, which is encrypted and then securely stored in a secure element housed within the smart device.
Apple Pay can be used online or at participating retailers using point-of-sale registers with Near Field Communications technology (NFC). When you make a payment with your phone using Apple Pay, whether that's paying for brunch or gas, Apple Pay generates a token, which contains a security code, authorizing the payment to go through. With each new transaction, a new token is created.
Other recent card issue to adopt the technology include Discover which began offering cardholders access to Apple Pay this fall and American Express which began offering it to their corporate cardholders.