The content is accurate at the time of publication and is subject to change.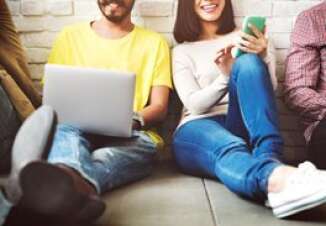 People are happier with their homes than they are about work or play, according to the new 2017 U.S. Bank Possibility Index. They also found that people's conversations on social media platforms about all three areas could lead others to believe their satisfaction factor in those areas is higher than it really is.
In the 2017 U.S. Bank Possibility Index they looked at how people were fairing when it came to work, play and home, whether that means retirement savings, the value of their home or how much they spend on entertainment, as well as how they represent what's going on in their life on social media.
When it came to social media three themes were the most popular – love, family and neighbors. They also found that people tend to hype what's going on in their life. "The high conversation score can be interpreted in a couple of ways: it may signal a bit of puffery in how we present ourselves on social media or, perhaps, it speaks to Americans' optimistic spirit," said Scott Barry Kaufman, professor of Positive Psychology at the University of Pennsylvania, author and spokesperson for the Index.
Rocking it at home
Home is where the heart is, and people gave their home a higher score than they did work or play, with the study finding that a variety of factors contributed to this high level of satisfaction, ranging from lower crime rates and improved insurance coverage to credit card debt that they felt was manageable.
But here too there is room for improvement, with respondents feeling that they did not have enough savings in the bank and that their home value growth was rather uneven.
Work gets a needs improvement rating
While there are some aspects of home ownership that needs improvement, people indicated that there is a lot of work to do when it comes to how they earn their bread and butter. Low 401(k) contributions along with stagnant household income growth were the areas where people had the most issues with despite feeling that their education levels and labor force participation were on point.
What about play time? Play fell in the middle between home and work, with fun time standards including dining out, travel and working out all scoring just about the same on the index.