The content is accurate at the time of publication and is subject to change.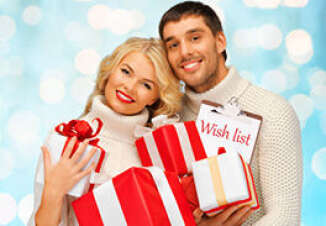 With Black Friday just a week away people are tuned in to holiday shopping, with many planning to get to the stores early, according to a new pre-holiday study released by Synchrony Financial. Keeping holiday stress down is a priority for shoppers but shopping is trending too, with 55% of people feeling optimistic when it comes to money, and their overall household finances.
All this optimism translates into increased sales, with Synchrony Financial projecting that sales will have an upswing, landing between 3.6% and 4.0% over last year. Along with the upswing in cheer and spending people are also budgeting and planning out their gift-giving lists.
"Consumer confidence continues to improve and we see it shaping the season in the form of increased sales," said Bart Schaller, EVP and chief marketing officer, Synchrony Financial. "However, caution overrides personal optimism, and shoppers tell us they're carefully planning, pacing and prioritizing their holiday purchases to stay on schedule and on budget."
Checking their list, adding names and staying on budget
Merriness is in the air, with shoppers expecting to spend more. Why? For 45% its all due to the upswing in personal finances and the fact they have more people to buy gifts for this season. Even with consumers feeling optimistic they are still budgeting, and trying to maximize how much bang they get for their holiday buck with 85% looking for sales, and 59% making a holiday shopping budget.
What kinds of gifts are trending with consumers? Well when it comes to their wish list cash, gift cards, a smartphone, and spending time with loved ones take the top spots.
Shopping tech is trending
What are consumers using to find the best gifts no matter what is on their list or for those looking for ideas? Technology is key for them, using it to find everything from the best price for a particular item to doing research to find an innovative gift and scoring a spot to park in when heading to the store.
Consumers are using digital tools with 82% using smartphones to compare prices and products, research prices and products, access and redeem coupons and actually buy gifts.
On the other hand, over half look for deals when surfing the web, with 37% reporting that this year they will buy more gifts online because it gives them more freedom, faster delivery and better offers.
But when it comes to fun, shopping in real time trumps shopping online, with 60% indicating shopping in stores ups their fun level, while 23% really like the holiday cheer that goes hand in hand with shopping at stores.
For the Synchrony Financial study 1,600 shoppers took part using an online survey.