The content is accurate at the time of publication and is subject to change.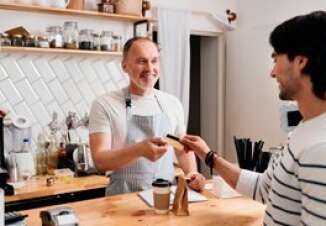 Checking out fast is often the name of the game for many when shopping and in the coming year those with the Discover Card will be able to forgo signing their receipt, giving them a faster check out. The new initiative will begin in April 2018.
At that time Discover will stop requiring that people paying with a credit or debit card actually sign for their transaction whether they are buying a latte or a new pair of sneakers. It is available to people paying in brick-and-mortar stores and will be available in the United States, as well as Canada, Mexico, and the Caribbean.
This new initiative is part of the issuer's ongoing campaign to provide their cardholder's with a faster checkout, while also keeping their payment card security on point.
"As the payments industry continues to evolve and introduce new methods of transacting, we're making sure that Discover is providing customers and merchants with a smooth and more secure payments experience," said Jasma Ghai, vice president of Global Products Innovation at Discover.
"With the rise in new payment security capabilities, like chip technology and tokenization, the time is right to remove this step from the checkout experience," she said.
Security, security, security
Discover has employed a variety of digitally based technologies designed to streamline the authentication process, including biometrics, tokenization, and multi-factor authentication. These technologies are seen as being safer when it comes to security than having consumers sign for their transaction, while also making it faster.
Retailers who want to use this new system may need to upgrade their terminals to process the tractions.
Security Discover style
Discover has already instituted a variety of security measures for their cardholders, including the new chip-enabled cards designed to thwart hackers from cloning payment cards and getting consumers data. They have also created the Discover Digital Exchange, which enables token-based technology on mobile and digital devices so that tractions are secure.
"Freeze It®" is a tool developed by Discover, which lets cardholders actually put their account on hold when they have either misplaced their card or it's been stolen. This way they don't have to call in, and when they find their card they can unfreeze it.
Cardholders can also sign up to have Discover alert them if their data shows up on any risky sites or if a new account appears on their Experian report. In general, they monitor all card purchases and offer a $0 Fraud Liability Guarantee covering unauthorized purchases that are made with a Discover card.