The content is accurate at the time of publication and is subject to change.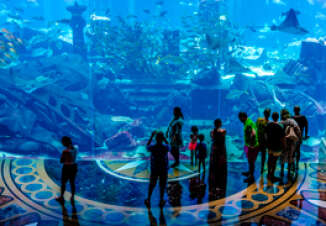 Imagine looking outside your hotel window and seeing fish swim past, or heading to the hotel's gym and being handed a yoga mat by a hologram. According to a new survey from Chase and Marriott, more people than you might think believe those scenarios might become a reality within the next fifteen years.
The Marriott Rewards credit card, issued by Chase, conducted a survey of 1,000 folks ages 18 to 67, who stay in hotels at least five nights a year. They asked about the future of travel, between now and 2030, and how people thought it might change.
The answers were nothing if not imaginative, with people imagining everything from taking a zip line to a tree house hotel to taking a road trip in a flying car.
Here's how people think the world of travel might look in the year 2030 (and the percentage of respondents who think these things could really happen):
• Gyms will be staffed by holograms offering personal training services. (37%)
• Passports will go digital—so you'll get a stamp for your smartphone, instead of good old ink and paper booklets. (58%)
• Face recognition technology will make passports obsolete. (50%)
• There will be underwater hotels. (40%)
• Space travel will be a viable vacation option. (40% of men, 29% of women)
• Eco-travel, or ecotourism - which emphasizes visiting natural environments, sustainability, and responsibility - will be the hottest travel trend. (71%)
• Hotels will offer 24/7 guest services, via virtual concierges. (61%)
• Travelers will pay using their smart watches and other mobile devices. (58%)
• Extreme hotels, such as private huts over the ocean, and tree houses accessed by zip lines, will be all the rage. (51%)
• Personalized mobile travel guides will help folks navigate their journeys. (47%)
• People will travel by transatlantic train and flying car. (26% train, 24% car)
This survey was conducted by phone in early April 2015.
The Marriott Rewards credit card offers five reward points for every dollar spent at Marriott properties, and two reward points for every dollar spent at restaurants, on car rentals, and on airline tickets purchased directly from an airline. It's a chip-enabled EMV credit card and doesn't charge foreign transaction fees. There is an $85 annual fee, which is waived the first year of membership.