The content is accurate at the time of publication and is subject to change.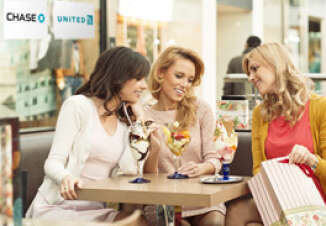 Trips to the mall during the holidays can be fun, but you might need a minute to relax between stores. United MileagePlus cardholders will be able to do just that at VIP Lounges that United and Chase have set up in two malls located in Short Hills, New Jersey, and San Francisco, California, which happen to be cities where United has hubs. At the lounges, cardholders will be able to grab some refreshments and take advantage of timely and free holiday perks like gift wrapping, coat and bag check, Wi-Fi and TV.
They are also running special weekly events in the lounges, as well as throwing a special reception in Short Hills with celebrity chefs, including Aarón Sánchez and Jose Garces. The lounges will open their doors on Black Friday just in time for holiday shopping. Lounges will stay open right up until Christmas Eve. Cardholders can bring three of their friends or family members in with them.
"Every year we look forward to providing the VIP Lounge experience for United MileagePlus cardmembers to enjoy some much needed relief from the hectic holiday shopping crowds," said David Gold, general manager, Chase.
The weekly festivities and giveaways
During the week there will be special events occurring at the lounges, starting off with Visa Checkout Mondays, where people can check out special extras including treats and gifts.
Then on Toys for Tots Tuesdays, people can drop off new unwrapped toys on December 1, 8 and 15, for donation to the Toys for Tots Foundation. In keeping with the holiday cheer in return cardholders get a United Club pass. And if they bring in two toys, they get two passes.
On MileagePlus X Wednesdays people can learn more about the app. On Football Sundays, the game will be playing in the lounge for husbands that mind want to skip the actual shopping.
Hanging out with celebrity chefs In New Jersey
Inside Access from Chase is also having a private reception on December 2, which is hosted by well-known chef, like Aarón SánchezJ, ose Garces, and François Payard.
The event will be taking place at The Mall at Short Hills VIP Lounge, and people will get to meet the celebrity chefs as well as taste their favorite holiday hors d'oeuvres and desserts.
More information on this event is available on the website.