The content is accurate at the time of publication and is subject to change.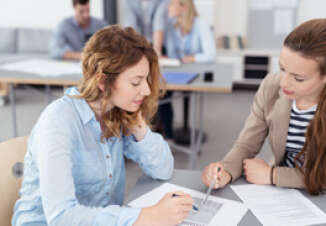 Is anything more stressful than applying for college? Getting a student loan, according to a new study by Citizens Bank, which showed that the student loan process spikes stress levels for many. Over half of applicants don't fully have a handle on the whole process of getting a student funding.
The survey was conducted online, and found that for millennials getting a student loan was not only stressful (76%) but confusing (74%). With millennials (53%) and parents (60%) saying that they find the paperwork both drawn-out and unclear, which ups their stress and confusion levels.
They found that trouble comprehending legal and financial terminology came in closely behind paperwork issues. What is the solution? For many people being able to speak with a financial professional to help sort out their issues brings down their stress level.
Paying it back
Worrying about paying back student loans is an issue for 75% of Americans, and 80% of millennials. When it comes to sorting out the process a little over half (53%) of people head to the financial aid office of their college or university for help, or they log on to federal student loan websites for help.
Yet the personal touch is something many crave, with 57% indicating that they would rather actually talk with a financial professional to get their feedback on paying for college.
"Students and families today are grappling with the rising cost of college and many don't know where to begin when it comes to navigating the financial aid process. While going off to college is an exciting time, figuring out how to fund an education can be daunting," said Christine Roberts, Head of Student Lending, Citizens Bank.
"Talking to someone who is experienced with the financial aid process is one of the best ways to be prepared and to alleviate the stress that comes from not understanding your options, but many people don't think to ask their financial professional or banker for advice," she added.
The survey was conducted in September 2016. They interviewed over two 2,000 people over the age of 18.