The content is accurate at the time of publication and is subject to change.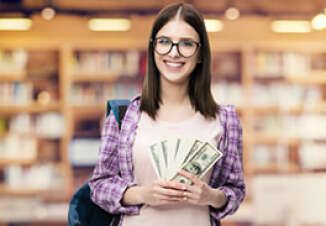 School days are upon us and financial literacy is on students'minds, according to the U.S. Bank Student and Personal Finance Study. Many in college believe they have a handle on the financial basics, like budgeting and saving, but when it comes to topics like credit and investing they give themselves a solid "C."
The study took a close look at the attitudes of students in the 18-30 age range. With 42% of students saying that they know the basics about savings and checking accounts, while 39% were confident about their ability to save money.
But when it came to the ins and outs of credit it was clear that they needed some additional schooling with 54% inaccurately thinking that having too many cards would negatively impact their credit score, and 33% believing that using debit cards and checks would help them build credit. And when it came to knowing what their credit score is just 46% had actually checked it.
Money management and cyber security
The study looked at more than credit. It also found that students are short on schooling when it comes to investing money and saving for their golden years. What about budgeting? Here, too, students weighed in to say that they often struggle with staying on point with their day-to-date expenses.
Yet even with this they are actually doing better than last year. In 2015, 67% said that they were barely keeping up with negotiating their daily finances, and this year there was a 7% decrease with 60% reporting the same struggle.
What about protecting their identity? You may have expected the hyper-connected and tech-savvy students would be on point with this, but that is not the case. While 57% are secretive about their passwords, 22% have created simple passwords that they can easily remember, and just 27% swap them out on a regular basis.
Going hand-in-hand with this trend just 45% regularly keep track of their credit card account activity, while 41% confirm a business credibility before giving out personal or financial information to them.
Success isn't what you may think
The study took a look at what success meant to these students, and it didn't mean making a lot of money or owning a house. Personal happiness (72%) and health (66%) were the top gauge of success with home ownership (35%) and high income (23%) coming in as being far less important in the scheme of things.
The 2016 U.S. Bank Student and Personal Finance Study was conducted in May, via an online, quantitative survey. They interviewed 1,615 high school seniors and undergraduates.