The content is accurate at the time of publication and is subject to change.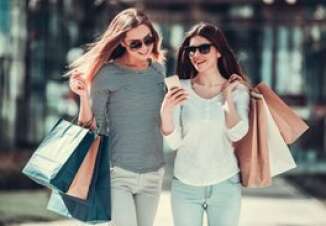 Consumers are spending again, according to a new study by TD bank, showing that 73% of consumers spent $500 or more on one purchase over this past year whether it was electronics, furniture or something else. Where are they shopping? Brick-and-mortar stores are still trending with consumers, but digital platforms performed well too, especially with Millennials.
For the TD Bank's Retail Experience Index, 1,021 people were polled to get an idea of what consumers are looking for when it comes to retail experiences, whether that is buying behaviors, getting to the point where they are ready to make a purchase or their preferences while shopping.
"We're encouraged to see that consumers are making major purchases again and feeling confident about the economy overall," said David Boone, EVP, and Head of U.S. Partnerships and Shared Services at TD Bank.
"We expect consumer spending to increase steadily throughout 2018, so retailers should re-evaluate how they are engaging with customers and determine if they're providing experiences that encourage purchasing across all channels," he said.
Brick-and-mortar stores are popular
They found that traditional retail stores are still popular with consumers, with 51% indicating that they head to the store "all the time." Two-thirds of people who brought a big ticket item in a store approached a salesperson to get some help, indicating that the personal touch when shopping is still important to consumers.
That said digital shopping platforms are hands down the favorite for Millennials, with 41% of millennial shoppers (age 18-34) indicating that they are cyber shopping "all the time," while 26% of Gen Xers and 17% of Baby Boomers said the same.
They also found that 34% of people often use mobile apps to go shopping, with 52% indicating that they like them because they enjoy the exclusive in-app promotions. Just over half (51%) like to use apps to go shopping when the stores are closed, and last but not least, for 48% the lack of lines and crowds are the main draw.
Millennials are also very loyal to their favorite brands, outdoing their older counterparts. They lead in key categories including electronics/music equipment, furniture, jewelry, luxury/high-end fashion and accessories, wearables, sporting goods/fitness equipment, outdoor power equipment and power sports/water sports.
Hey big spender
When it came to making purchases of $2,000 or more on a single item, these high spenders typically conducted research before handing over their cash or payment card. And they were more likely than other shoppers to use social media to help them make a decision (23% vs. 12% of all shoppers), or even check out blogs (32% vs. 21% of all shoppers).
When hitting brick-and-mortar stores these big spenders did not usually buy the item on their first visit, with just 23% on average making a purchase on their first trip to the store, while 40% of all shoppers typically did the same.