The content is accurate at the time of publication and is subject to change.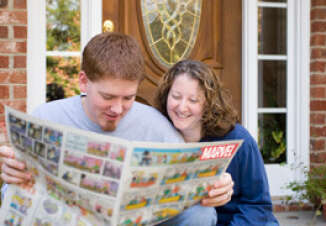 Comic books and superheroes are definitely trending right now, so what better way to than with a comic book? Visa and Marvel have teamed up to release Guardians of the Galaxy: Rocket's Powerful Plan, featuring Iron Man, a free educational comic book designed to boost financial IQs.
The comic includes a variety of Marvel's iconic superheroes to teach readers how to manage money, drawing on Visa's expertise in this area for the content, and Marvels comic book heroes to bring it home. If you're heading out to your local comic book store to score a few copies, not so fast. You may want to head over to your local library first. Marvel and Visa are teaming up with public libraries around the U.S., so people can easily access it.
Both Marvel and Visa are excited about their partnership. "At Visa we believe that financial education is most effective when the public and private sectors work together," said Hugh Norton, Head of U.S. Financial Education, Visa Inc. "Our partnership with Marvel and the Public Library Association allows us to make financial education entertaining and engaging, while also offering educators a resource that introduces basic money management concepts to the classroom."
Iron Man hits the library
The new comic book was released earlier in the month for Comic Book Day at the Cleveland Public Library, where there was a reading of Guardians of the Galaxy: Rocket's Powerful Plan. Iron man was also on deck since he has a starring role in the comic. Visa and the PLA will be having other events in libraries across the U.S. in coming months.
Not only is it available in the U.S., it is also being released globally in 16 languages. It was created in conjunction with Practical Money Skills for Life, a program created by Visa, which is free and teacher approved. The program was originally rolled out in 1995, and since then their products have become available in 42 countries.
Not Marvel and Visa's first superhero rodeo
Marvel Comics and Visa have come together before to create a comic book aimed at financial education. Avengers: Saving the Day was their first joint comic book. It was released in 2012 and translated into 9 languages. They have distributed nearly half a million copies around the globe.