The content is accurate at the time of publication and is subject to change.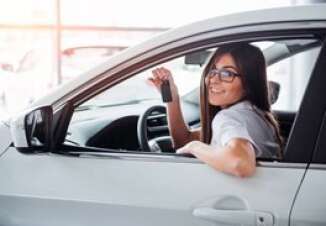 What if you could trade in your car lease just like you trade in your cell phone when you want a better model? If that idea is intriguing, you may want to check out Swapalease, a website that connects people who have a car lease they want to get out of with someone who is looking to lease a new car.
Typically to get out of a lease people have to sign over a check to the leasing company. Swapalease was designed to give them another more cost-effective alternative. With Swapalease "no one eats the negative equity" Scot Hall, Executive Vice President of Operations for Swapalease.com. When the right people come together on the Swapalease site, which is very much like a dating service for car leases, the new leaseholder simply steps in and takes over the lease.
In fact, when the process is done, the previous leaseholder normally stops paying and the new one starts paying. "That is the magic of Swapalease – there is no pay off necessary," said Hall. He also points out that leasing has become an integral part of the automotive industry. "Just about 31% of all new vehicles in 2016 were leased. The number of people leasing cars went up when the recession started."
Saving money, upping luxury
Swapalease is not just about helping people who need someone to take over a lease. It also gives people who are looking for a new car another possibly lucrative option and a way to get a more luxurious ride in their life.
For some people, it can be a money saving choice to go with a lease rather than buying a car outright depending on what the individual is looking for and their financial situation.
"Leasing has always been known as an alternate form of financing where you typically get to drive more of the vehicle for your dollar, especially in luxury transactions," said Hall. "However, we're seeing this gap widen further as a result of increasing MSRP, and as such the gap in payment affordability is noticeable even on many of today's most popular cars and trucks, not just luxury," he added.
Swapalease.com compared the monthly payments associated with leasing a car and buying a car using a 3.50% interest rate for a 60-month finance program, and a 3.75% rate for a 72-month finance program.
They found that if a consumer looking for a new car decided to lease a Volkswagen Passat 1.8TS for 36 months they would pay $149 each month. While if they decided to buy the car outright, and finance it for 60 months they would pay $360.94 per month, and if they extended it for 72 months they would shell out $308.16 every month.
What if a Mercedes-Benz E300 4MATIC is more to your liking? In that case, leasing it for 27 months would cost $589 a month, while buying it outright with a 60-month financing plan would run $902.40, and the 72-month option would bring it down to $770.44 a month.
The match game
How does Swapalease work? Individuals looking to find someone to take over their lease place a classified ad for $100 outlining all the details. On the other hand people who are looking to lease a car can search the listings for free, and even anonymously ask questions about the car and lease.
When they are ready to take the plunge all they do is sign up for a membership, which typically costs $59. After they reach an agreement the person who is taking over the lease goes through the approval process. Once that's done they finalize the documents and take their new car home.
Rooted in a desire to help
Swapalease got its start two decades ago Cincinnati, Ohio by two brothers who owned a large chain of automotive dealerships. The duo saw a very real need for a way to connect people looking to get out of a lease with those who want to lease a car. In a forward-thinking move, they decided that using the internet was the best way to get started.
Scot Hall has been with the company since the beginning, having a worked as a finance and insurance manager. When he was offered the job at Swapalease he was excited about the concept and knew there was a demand for it.
It's all about technology
As times have changed Hall sees that technology continues to play a very real role in the evolution of the automotive industry, with people looking to have the freedom to upgrade when they want the newest car in a similar fashion to how we often want the newest most advanced smartphone. "We believe the mobile phone industry is very similar to today's car and automotive industry. It's a very similar way of looking at the automotive industry driving this desire to change more frequently and more often," said Hall.
"Our belief is it's the technology and the vehicles and features being offered. In the same way, people want to upgrade into newer mobile technology every few years, we believe consumers look at cars the same way, especially with new tech features being introduced every few years in autos," he said.
"You want out, I want in," is Swapalease's slogan and for many it has helped them get the car of their dreams while saving them money and time. What's better than that? To find out more about Swapalease check out the website.