The content is accurate at the time of publication and is subject to change.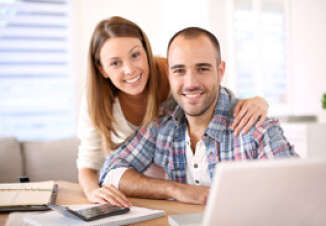 New Year's resolutions are still fresh in many of our minds whether we're trying to get healthier physically or financially. But if you chose to kick up the volume when it comes to finances the National Association of Federal Credit Unions (NAFCU) has some tips and tools to help people get started, ranging from setting a budget and upping savings to finding credit cards with the best rewards and benefits.
But they also suggest that joining a credit union can be fiscally beneficial "The new year is the perfect time to get your finances in order," said Patty Briotta, NAFCU's director of public relations. "Joining a credit union — a not-for-profit, member-owned financial cooperative — is one of the best ways to make sure you're getting lower fees, more competitive rates and outstanding service."
Budget and save
First things first, if you want to get your finances in order then a tried-and-true method is at the top of the NAFCU's list – making a budget and sticking to it. Setting up a way to track spending and expenses is a great way to see where your money is going and to put the kibosh on over spending. If you need some help with budgeting credit unions often have workshops on finance topics.
Going hand in hand with budgeting is socking away money and giving some extra thought to financial decisions whether it's buying a bi- ticket item or opening a retirement account. Part of this can be using financial calculations to figure out where you are and where you want to go with your financial goals. On the NAFCU website they offer free access to 30 calculators, ranging from those to tell you how much you will need to retire and not feel the pinch to how much can spend to buy a car and not break the bank.
Making good choices and being safe pays off
Fees of all kinds, whether that means checking account fees or those pesky late fees, can be akin to throwing money out the window, so they suggest avoiding them. How? Well you can use automatic bill payment to prevent late fees, and going with banks or credit unions that give you free checking and free access to ATM's can save you money on banking fees.
Credit cards can be a great way to build credit, meet financial goals and earn rewards if you choose the right card in terms of benefits, rewards and fees. Comparing cards on sites that offer comparisons can be a great way to see what they offer and how they measure up against the competition – and which ones give you the benefits you want and need.
With identity thieves and hackers in the news it always pays to keep an eye on your credit card and bank statements, as well as your credit report. This way you can find out if any fraudulent charges have been make sooner than later.