The content is accurate at the time of publication and is subject to change.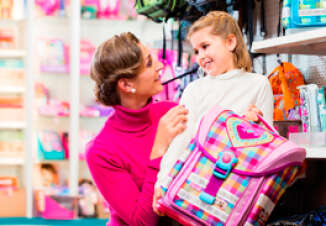 Summer fun is winding down, and back-to-school shopping is heating up with many parents planning on spending more this year than last, according to the latest American Express Spending & Savings Tracker.
The tracker looked at what was important to parents this back to school season, and found that they are planning on spending an average of $1,239 this year, which is up 8% from 2014, and up 24% from 2011. And they will also be shelling out more for extra-curricular activities, like sports and tutors, as well textbooks.
Tech, tech and more tech
While clothes, bags and the regular school supplies are on their list, so is technology. Smartphones, tablets and laptops are on many lists with 82% of parents indicating that tech is a tool in their kid's educational toolbox, up from last year when 77% were on the tech bandwagon.
Certain technology is more important than others for learning according to parents, including:
• Tablets (57% vs. 51% in 2014)
• Smartphones (29% vs. 24% in 2014)
• Smartboards (18% vs. 17% in 2014)
• eReaders (12% vs. 15% in 2014)
Smartphones have become one of the top gadgets for students, with 29% of parents viewing them as a viable learning tool, which is up from 21% last year. What's the average age for getting that first cellphone? It's still 12 years old, and has been since 2013.
"Today's parents are managing an ever-growing checklist for back-to-school season," said Jed Scala, senior vice president, Consumer Lending at American Express. "The mass adoption of technology has filtered down to the classroom, changing the way kids learn and the way parents spend."
Textbooks and extracurricular activities still styling
Even with this emphasis on technology, books are still on the agenda with 57% of parents expecting to dole out more money for textbooks this year than last year, gearing up to spend $249.
The average spend on extracurricular activities is up too, with parents planning on spending $455 on each of their kids – up 20% from last year. While sports take the top spot when it comes to after-school activities, most parents want their kids to score A's rather than be a star athlete (86% vs. 14%). In that case it's not surprising that there has been a small bump in academic activities, like SAT/ACT prep, up 7% from last year, and tutoring, up 14% from last year.
To afford all these expenses nearly three-quarters of parents will be tightening their own spending, with 53% cutting back on eating out. The survey was conducted from July 6 – 10 using a random sample of 2,127 adults.