The content is accurate at the time of publication and is subject to change.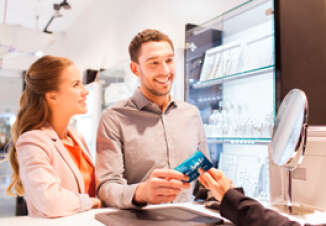 Synchrony Financial and The Jewelry Exchange have signed a multi-year extension of their consumer financing relationship. With the signing of this deal Synchrony Financial will continue providing the direct diamond importer with a private label credit card financing program. The two have been doing business together for the last decade.
The renewal of the program is seen by both companies as a way to offer customers more of what they want including additional benefits and promotional offers down the line. "Our research clearly shows that jewelry shoppers place value in the availability of financing," said Glenn Marino, executive vice president and CEO of Payment Solutions, Synchrony Financial. "We're pleased to continue working with The Jewelry Exchange to provide this important option to their customers and help them increase loyalty and repeat business."
The card
The Jewelry Exchange credit card is a private label card that can be used online and in stores, giving people a way to finance their purchases, as well as get access to exclusive offers. It can be used at any of the diamond reatailer's sixteen stores.
This is a no-annual fee card and they currently have a promotion in which new cardholders do not have to pay interest if they pay their entire purchase of $500 or more off within six months. They do have to pay their minimum monthly payment during that time, and if they do not pay off the entire amount they will then be charged the accrued interest.
Consumers research their jewelry buys
Synchrony Financial conducted their third annual Major Purchase Consumer Study in 2014, discovering that jewelry shoppers do their due diligence and then some before making a purchase, spending as many as 45 days doing their research.
The availability of financing is a primary concern for 75% of cardholders, indicating that they always look for promotional or special financing when making a big purchase. And 50% said if they couldn't get financing they would go to another store.
The Jewelry Factory was launched in 1977 by Bill Doddridge, who is the current president and CEO of the company. Today their stores are located in major cities including Los Angeles, Philadelphia, San Francisco, Boston, Chicago, and Seattle.