The content is accurate at the time of publication and is subject to change.
This content is not provided by Citi. Any opinions, analyses, reviews or recommendations expressed here are those of the author's alone, and have not been reviewed, approved or otherwise endorsed by the Citi.
The information for the Costco Anywhere Visa® Card by Citi offer may be out-of-date. The current card details are the following:
Discover one of Citi's best cash back rewards cards designed exclusively for Costco members
4% cash back on eligible gas and EV charging purchases for the first $7,000 per year and then 1% thereafter
3% cash back on restaurants and eligible travel purchases
2% cash back on all other purchases from Costco and Costco.com
1% cash back on all other purchases
Costco Cash Rewards can be redeemed for merchandise or cash back at any U.S. Costco warehouse, including Puerto Ricoµ $comm_177= "yes"; ?>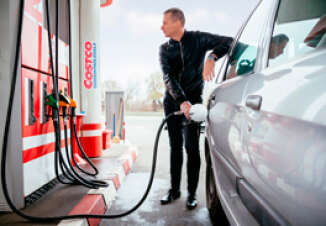 People with the Costco American Express cards will be receiving the new Costco Anywhere Visa® Card by Citi in late May or early June, offering up to 4% cash back. They will get them in time for the June 20 changeover. Another big change for everyone is that Costco will begin taking all Visa cards at their registers and on their website.
Last year Costco announced that it would be parting ways with American Express, and partnering up with Citi, a Credit-Land.com advertising partner. In early March 2016 Citi and American Express came to terms so that Citi could purchase the Costco portfolio, and move on with the transaction.
Cash back with Citi
When pumping gas anywhere in the world including Costco gas stations cardholders will earn 4% cashback on up to $7,000 cash back, and from that point on they get 1% back.
When traveling, whether booking airline seats or hotel rooms cardholders will earn 3% back. And they will earn the same percentage back when eating out at restaurants, whether that means booking dinner at a four-star restaurant or hitting a fast food restaurant on the fly.
What about when they shop at Costco? They will earn 2% back when they shop in the store or when they check out the website. All other purchases earn 1% cash back.
What about your American Express points? Any rewards that cardholders have accrued and do not use by June 20 will automatically be transferred to their new cards, and they can begin claiming their rewards through the Citi rewards program.
What cardholders can expect
Already existing cardholders don't have to do anything, according to the Costco website, their new Citi Costco credit cards will arrive in the mail in the next month or two. Cardholders will receive additional information from Citi this month.
Costco confirms that cardholders will not have to go through the application process again. Some people may be worried that Citi will pull a new credit report when issuing the new cards, but that is not the case - a new credit report will not be requested or reviewed. After June 20 the older American Express cards will not be active, and only the new cards can be used both inside and outside of Costco.