The content is accurate at the time of publication and is subject to change.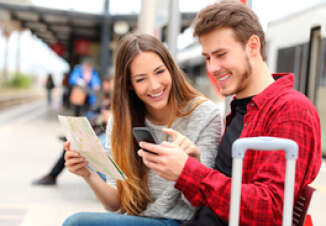 Men are from Mars, and woman are from Venus and that may hold true according to a new study showing that men and women often have travel goals and preferences that are very different than their partner, whether that's deciding on the perfect holiday or setting budgets. But one thing they agree on – using rewards and points to travel is always in style.
The Chase Ultimate Rewards Survey looked at the attitudes of couples when it comes to travel, finding that while eight out of ten couples are planning to go on a vacation this summer, their responses during the study showed some very real contradictions when it comes to their partners travel needs, indicating that they didn't always "get" what their partner wanted from their summertime vacation.
Two things they did agree on was that they that looking to spend less on their vacations and using rewards was a great way to do just that. "More Americans are confident about taking time away and booking a vacation this summer," said Manning Field, Head of Marketing and Innovation, Ultimate Rewards, JPMorgan Chase. "Traveling couples are also actively looking for ways to save money, with two-thirds often paying for trips with travel-related points or rewards. The survey showed contrasting travel perceptions and behaviors, including differences in how individuals prefer to utilize travel-related points or rewards."
Travel is up, but perceptions are off kilter
While couples are out of sync when it comes to certain aspects of their vacation, travel is definitely in style. With more than half (53%) of couples feeling that travel is in the cards this summer citing that they have more paid time off and more money to spend on travel.
Romantic vacations are what women want right? Not so fast according to this study, men may be overestimating their partners need for a romantic getaway with 46% thinking their lovers want long walks on the beach and candlelight dinners, but only 36% of women say that a romantic holiday is their dream trip.
Who's inclined to spend money more easily? Men and women were both quick to label their partner as being the one who spends more money in this study. With 25% saying that their partner is "the spender," and just 7% claiming that label as their own.
And the gender divide remains when it comes to looking for travel deals. While women are more likely to say that they want to get the best deals, just 8% of men and 6% of women think their partner is looking to save money when booking trips.
Perceptions are out of sync when it comes to planning travel activities too, with 47% of woman believing that they are the ones planning out their itineraries, and 57% of men thinking they do it together.
Couples love reward points
Using points is in style with couples, with two thirds saying that they frequently use points or rewards to finance their trips in order to rein in expenses. With 36% of people who fall into the 35-44 age range suggesting that they always pay for trips with rewards and points.
The gender break down shows that men are more focused on using rewards to pay for flights (34 percent versus 25 percent), while women use them to book hotel stays (27 percent versus 19 percent).
The Chase Ultimate Rewards Survey was conducted between June 1-5, 2015. They interviewed 750 people aged 18-65 who travel and are in a relationship.