The content is accurate at the time of publication and is subject to change.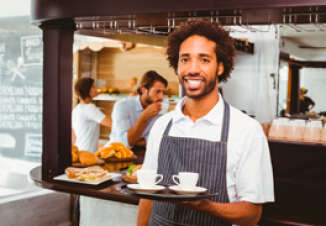 Revenue is up and optimism is trending for small business owners and merchants, according to the newly-released ShopKeep Small Business Index. The data shows they are healthier and stronger than they have been in years.
ShopKeep, a cloud-based technology provider, talked to small business merchants in their network to find the latest trends in the market, as well as determine their overall health. Small businesses are feeling flush, but they do have issues that they worry about including taxes, government policies and new payment technologies.
Revenues up, up and away
The holidays are behind us, but the sales they brought to small businesses helped fuel business owners' positive outlook with 96% of owners saying their confidence levels are high and 97% believing their businesses will be successful this year.
In keeping with this trend, 75% of respondents said their revenue was up over the last six months and 90% said they expected that to continue over the coming months.
When ShopKeep looked at sales data from the first quarter of 2015 and compared it to the same time last year they found why small business owners were feeling optimistic.
Transactions went up by 17%

Same-store sales data showed an 11% increase

Restaurants and bars experienced a 25% increase
Potential roadblocks
The study also looked at how business owners feel about issues and government policies, which may affect the growth and health of their businesses. Even though enthusiasm and profits are up, 61% report that regulatory policies and taxes may be issues for them moving into the next quarter.
Other potential issues include:
Economic uncertainty (44%)

Retaining a quality workforce (42%)

Cost and availability of health insurance for employees (27%)
The study also found that part of their concern is how the new payment technology regulations will affect them moving forward, especially with the EMV conversion on the horizon.
"It is encouraging to see the overwhelming optimism in the small business sector as we head into the second quarter of the year, but even with this positive outlook, we're finding that independent merchants are relying heavily on each other and local resources to run their businesses--especially where EMV is concerned," said ShopKeep president and CEO Norm Merritt.
"With new payments regulations being introduced later this year, ongoing industry-wide education about developing technologies and government policies will be key in maintaining their growth and success," he said.
ShopKeep, an iPad point of sale system, was founded in 2008 and is headquartered in New York City. They provide services to 10,000 small businesses located in the United States and Canada. ShopKeep Small Business Index talked with 1,480 of their merchants, and  looked at  first quarter same-store sales data to conduct the survey.