The content is accurate at the time of publication and is subject to change.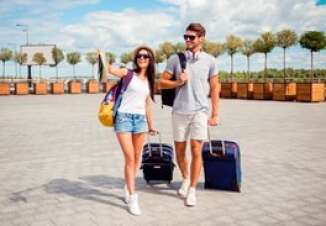 Travel is definitely on the agenda for many people in the coming year, according to a new study by American Express Travel, with some international destinations making it into the list of top ten vacation picks. These destinations include Bali, Costa Rica (San Jose and Liberia regions), Dubai, London, Portugal (Lisbon and Porto regions), Rome, Tel Aviv, "Utah-lorado" (Park City, Salt Lake City, Aspen, Denver, and Vail), Vietnam (Hanoi and Ho Chi Minh City regions) and Zurich.
The international flavor of this list is no surprise considering that 72% of people said that one of the big draws for travel is that they enjoy being immersed in different cultures. And international bookings made through American Express Travel have experienced a 44% upswing for the first quarter of next year.
"For 2018, we see U.S. travelers expanding personal and global boundaries when they travel. We noted an increased interest in cultural discovery, personal connections, inspiring destinations, and premium, rejuvenating travel experiences," says Tom Stein, VP of American Express Travel.
Soaking up culture and going local
Getting a dose of the local culture is popular with travelers, with 57% citing that their most important travel-related goal for next year is heading to a brand new locale. Hanging out with locals is vital for more than half of respondents, while 57% also want to get a fully immersive experience by renting a place from a local. And for 43% eating out at a local restaurant adds some excitement to their travel experience.
Getting lost is not a problem for 52% of people, who actually look forward to losing their way when traveling because they will find shops, bakeries, and restaurants that they might otherwise never visit.
Adventure is still on the travel menu for 49% who said that trips offering a high level of excitement and adventure are hands down their favorite kind of holidays.
A need for pampering
Luxury is also a big draw for travelers, with 56% of people indicating that if they could get a better level of service they would pay more for their trip, while 53% admit that getting pampered matters when they are traveling.
What about booking premium seats when flying? More luxury travelers are planning on buying premium seats, with 68% saying that buying business class or first class tickets is definitely on their agenda for the coming year.
When it comes to getting a travel surprise, 51% picked getting their seat upgraded when flying, while 41% went with getting a room upgrade when booking a hotel stay.
When asked about who they would be traveling with, 53% said that they actually prefer traveling with others, and for 25% who they are traveling with trumps the destination they are heading out to.
2018 Tourism Outlook: The Exploration of Today's Modern Traveler was carried out between June 9 and 23. They surveyed 2,000 consumers in the United States, who have traveled during the last year.