The content is accurate at the time of publication and is subject to change.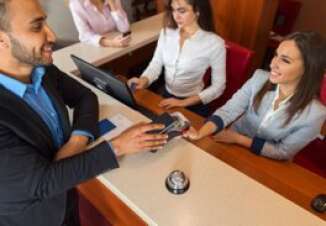 U.S. Bank has announced that their clients with Visa Corporate Travel cards will soon be able to use their mobile devices to make payments for expenses whether that's paying for a hotel room or a rental car. These clients will be able to use Apple Pay, Android Pay or Samsung Pay with their Visa cards.
According to U.S. Bank this new feature will make them the first financial institution to give their Visa corporate cardholders this capability. It is seen as a way to give them the same kinds of features they would have when using their personal credit card.
"Business travelers are increasingly expecting the same convenience and security in their business transactions as they experience with their personal transactions," said Jeff Jones, president of U.S. Bank Corporate Payment Systems.
"Consumer use of mobile payments is growing every day. Launching a corresponding capability for business travelers is the next logical step," he said. "This new functionality is a great complement to our U.S. Bank Access Online mobile app. Together, they become a powerful mobile toolkit for managing commercial card accounts on the go."
Mobile payments made secure
As is he case with consumer credit cards, the technology used to enable mobile transactions via apps like Apple Pay, Android Pay or Samsung Pay, uses a security protocol called tokenization.
This process lets transactions be processed without sharing personal and financial date with the terminal where the purchase is being made. Instead a unique token is created and that is passed to the payment system, which then lets the payment go through.
This adds an additional layer of security to get in the way of hackers and cyber criminals.
Getting the add
Right now certain U.S. Bank commercial clients can now integrate their corporate travel card into the mobile payment app service.
A more inclusive rollout that lets all commercial clients use the mobile payment feature is scheduled to take place later in the spring of 2017.
Corporate clients who have questions about this initiative can reach out to their U.S. Bank commercial card relationship manager or their account coordinator to find out more.