The content is accurate at the time of publication and is subject to change.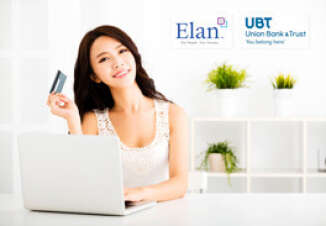 Elan Financial Services and Union Bank & Trust are teaming up to introduce a new credit card suite to their customers. The new portfolio will include both consumer and small business Visa and American Express credit cards, with some cards offering triple and double points on purchases.
What credit cards will the duo be launching? The new consumer line will include Visa Bonus Rewards, Visa Bonus Rewards PLUS, Cash Rewards American Express, Travel Rewards American Express and Visa Platinum non-reward products. The small business credit cards will offer similar rewards point breaks, but they will also be offering Corporate and Community products too.
Before this partnership, which took effect on May 20, Union Bank Trust was offering credit cards, all of which are now under the Elan Financial Services umbrella. This new partnership is seen by both institutions as being a way to give customers more reach and rewards upgrades, whether they are looking for a consumer or business credit card.
"By partnering with Elan, we can offer our customers a competitive suite of products and services including a menu of credit card types and solutions for the variety of cash, travel and merchandise reward options that meet the needs of our key customer segments," said president and CEO of Union Bank & Trust, Billy Beale. "This partnership will also speed up our planned deployment of EMV cards and Apple Pay to our customers.
New Cards and rewards
The rewards for the credit cards can vary depending upon the card you apply for and get. For instance, with the Cash Rewards American Express Card you get 3% cash back on gas, 2% cash back when buying groceries and 1% on everything else.
The Travel Rewards American Express card comes with triple points when paying for airline tickets and all airline related purchases, double points when eating out or staying at a hotel, and one point on everything else. The Visa Bonus Rewards Card you get one point for every dollar you spend, plus a bonus of 25% on all the points you earn per month, equaling 1.25 points.
People can apply for the cards at Union Bank & Trust locations or on the website.